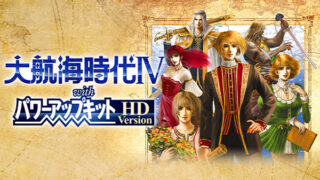 Koei Tecmo has released the first information and screenshots for Uncharted Waters IV with Power-Up Kit HD Version, which is due out for Switch and PC via Steam on May 20 in Japan for 4,180 yen. A 14,080 yen 30th Anniversary Edition will also be available. The game will support Japanese, Korean, and Chinese (Simplified and Traditional) language options.
Get the details below.
About

In Uncharted Waters IV with Power-Up Kit HD Version, players will travel the Seven Seas—including the Mediterranean Sea, East Asia, New World, and more—with their own fleet in the Age of Discovery. Buy and trade while gaining shares at the harbors in each sea, and come out victorious in naval battles against adversaries with the goal of becoming the ruler of the Seven Seas.

Uncharted Waters IV with Power-Up Kit HD Version includes Uncharted Waters IV: Porto Estado and its Power-Up Kit version, as well as the additional elements featured in the handheld port Uncharted Waters IV: Rota Nova, all remastered in high-definition as a new release. This is the culmination of Uncharted Waters IV.

A Rich Scenario Brings the Age of Discovery to Life with Fascinating Characters

Uncharted Waters IV with Power-Up Kit HD Version features seven protagonists to play as from various backgrounds including Rafael Castor, the son of nobles in Lisbon, Portugal; Hodrum Joachim Bergstrom, admiral of the Swedish navy; Maria Huamei Li, a Chinese female general who fights to save others; and Kyoutarou Saiki, a Japanese man wrapped up in family troubles. The characters you do not select as your protagonist will still appear in the main story, and color the world of the Age of Discovery through various events.

Buy and Trade Various Local Products and Expand Your Shares with Investments

The Seven Seas are dotted with harbors where you can buy and trade, as well as sign contracts with royalty and government-generals to gain shares, which can be used to buy and sell local products. There are over 100 local products in the game. Buy cheap local products at one harbor, then sail around the world and sell them at a different harbor for higher prices to turn a profit. Also, by making military and commercial investments at qualifying harbors, you can expand your shares at that harbor, which will allow you to trade more at once. There are also "trends" that significantly affect market value. How you increase your profits and gain shares depends solely on your skill.

Heated Naval Battles of Guns and Melee

Upon gaining shares, you may end up in a war against your adversaries. By approaching their fleet, an event will trigger and the battle will commence. Battles are mainly divided into artillery and close combat, and the victor will be decided based on your navigation officer, ship capacity, and player input. One-on-one fights and sniping may also occur, allowing you to enjoy heated naval battles packed with tension. Other than that, you can modify your ship at dockyards, hire navigation officers with various roles and abilities, gather intelligence at pubs, buy and trade items at guilds, hunt for treasure in ruins and churches, and more to enjoy your Age of Discovery adventure to the fullest.

Switch-Specific Features

Full high-definition support and an updated user interface to match the wider display. Touch controls are also supported.

30th Anniversary Edition

The 30th Anniversary Edition includes a 10-disc soundtrack featuring all 245 songs from the Uncharted Waters series. This is the first time Uncharted Waters III, IV, V, and VI, as well as Gaiden are being given the soundtrack treatment, and all of the new tracks composed by Yoko Kanno are included.

(There are 154 tracks from Uncharted Waters I, II, III, IV, V, VI, and Gaiden, making up six discs. The other four discs are the songs from the soundtrack included with the Uncharted Waters Online 10th Anniversary BOX.)
View the screenshots at the gallery. Visit the official website here.