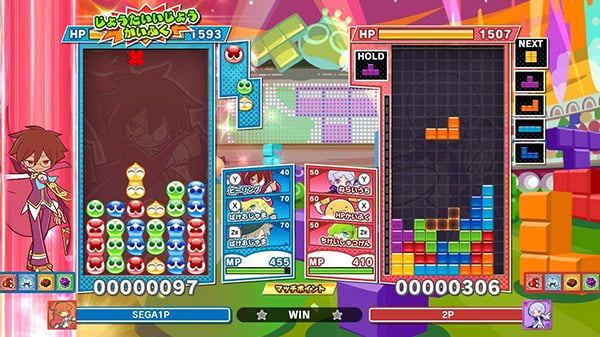 Sega will release the second free update for Puyo Puyo Tetris 2 on February 4 that adds four new playable characters, Challenge rules to "Multiplayer" and "Online —> Free Play," Color Blind Settings, and three new songs, the company announced.
In total, the update includes:
Four new characters added:

Serilly (voiced by Haruka Yoshimura)
Rafisol (voiced by MAO)
Strange Klug (voiced by Mie Sonozaki)
Yu & Rei (voiced by Miki Hasuda)

The following Challenge rules have been added to "Multiplayer" and "Online –> Free Play" rule selection:

Endless Fever
Endless Puyo
Tiny Puyo
Sprint
Ultra

Color Blind Settings added to the options ("trichromat," "protanopia," "deuteranopia," and "tritanopia")
Three new songs:

"Request from Puyopuyo"
"Watashi wa Ubou, Nanimo Kamo!" (Rafisol's Theme)
"Akaki Sakebi no Hadou!" (Strange Luke's Theme)
Puyo Puyo Tetris 2 is available now for PlayStation 5, Xbox Series, PlayStation 4, Xbox One, and Switch worldwide. A PC version is due out via Steam on March 23.
Watch a trailer below.