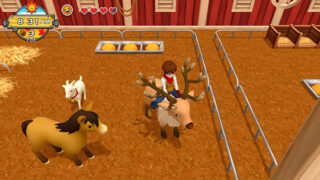 Publishers Natsume and Rising Star Games, and developer appci have announced the Harvest Moon: One World Season Pass, which will include access to four post-launch downloadable content packs.
"The fun of Harvest Moon: One World only begins on March 2!" said Natsume president and CEO Hiro Maekawa in a press release. "We have created four downloadable content packs and a Season Pass so players can further customize their experience, tell new stories, and express themselves in different ways in the new world through new house interiors, unique animals, new pets, and even an entirely new area! The Season Pass is the perfect way to ensure you get all upcoming downloadable content for the best value!"
Here is an overview of the Season Pass and each downloadable content pack, via Natsume:
Season Pass – March 2 ($14.99)

The Season Pass grants players access to all four Harvest Moon: One World downloadable contents for $14.99 and is available on March 2. Downloadable contents launching after March 2 will automatically update in-game on their release dates.

Interior Design & Tool Upgrade Pack – March 2 ($2.99)

Live your best life! Customize the interior of your house with 5 fabulous designs! You will also be able to upgrade your hoe, watering can, hammer, axe, and fishing rod an additional level, making growing crops, fishing, and mining easier and faster! This pack includes an additional level for all of your tools and five Different Interior Design Sets: Farm, Castle, Steampunk, Spaceship, and Starlight!

Far East Adventure Pack – March 23 ($12.99)

A whole new world! A new chapter, new characters, and even new crops await you in the Far East Adventure Pack! Unlock an entire island! Explore the exotic land of Wagashi! Woo the locals! Meet new animals! Play though an entire new chapter in the game as you explore exotic Wagashi! Woo a new bachelor and bachelorette: the stoic Shogen and the cheery Sana! Plant new crops like rice, chop down bamboo trees, and meet some amazing new animals!

Precious Pets Pack – April 13 ($2.99)

Adorableness Overload! From Siamese cats to silver dapple horses, the Precious Pets Pack includes 12 unique animals that will love settling down on your farm!

Mythical Wild Animals Pack – May 4 ($2.99)

Not just in fairy tales! Chocolate mint tigers and lava rabbits, oh my! Those are just two of the 10 fanciful wild animals you will unlock in the Mythical Wild Animals Pack!
Harvest Moon: One World is due out for PlayStation 4 and Switch on March 2, 2021 in North and South America, and for Switch on March 5 in Europe. An Xbox One version is also planned for release in North America.