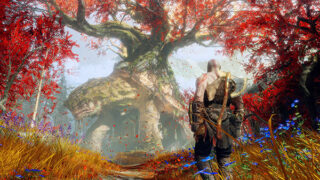 Publisher Sony Interactive Entertainment and developer Sony Interactive Entertainment Santa Monica Studio will release a PlayStation 5 enhanced performance patch for God of War on February 2, the companies announced.
The PlayStation 4 Pro version of God of War features two graphics modes: one that favors performance and one that favors resolution. The update will replace the current options with a new default setting that offers the best of both performance and resolution for PlayStation 5 players.
The PlayStation 5 enhanced performance experience includes:
Syncs to 60 frames per second
4K checkerboard resolution (2160p)
Players can also return to the original PlayStation 4 graphics mode at any time by selecting "Original Performance Experience," which will run the game at 4K checkerboard resolution synced to 30 frames per second.
God of War is available now for PlayStation 4.