CyberConnect2 launches 25th anniversary website, official web store
.hack and Naruto series developer turns 25.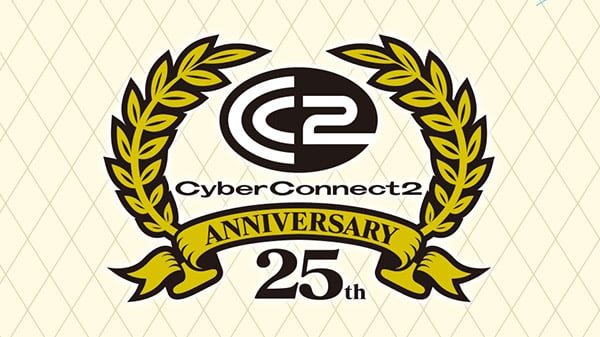 CyberConnect2 has launched its 25th anniversary website, and company president and CEO Hiroshi Matsuyama has released a video kicking off the anniversary year with four topics as its "first round of announcements," including the opening of the CyberConnect 2 official web store.
The Fukuoka, Japan-based developer was established on February 16, 1996, and opened additional studios in Tokyo and Montreal in 2010 and 2016, respectively. The developer is most known for the .hack and Naruto: Ultimate Ninja franchises, but was also behind games such as Little Tail Bronx, Asura's Wrath, JoJo's Bizarre Adventure: All Star Battle and JoJo's Bizarre Adventure: Eyes of Heaven, Dragon Ball Z: Kakarot, and the upcoming Demon Slayer: Kimetsu no Yaiba – Hinokami Keppuutan.
Watch the video featuring Hiroshi Matsuyama below. A transcript follows.
Opening

"Hello, everyone! I'm the representative director of CyberConnect2, Hiroshi Matsuyama! Today, February 16, marks our 25th Anniversary! Of course, this is our hard work of the past 25 years. I would like to thank everyone we've worked with in the industry, and above all, thanks to the many games we've worked on and the fans who loved them. Thank you very much!

"Seriously, though! 25 years! 25 years ago, I was just a young 25-year-old myself. We started with just 10 people, all around the same age. And now, we have 3 studios, in Fukuoka, Tokyo, and Montreal. Including new hires, we have a total of 280 staff members now. We're doing various kinds of work on a large scale. Truly, every day is a happy day.

"So, we'd like to do various things to convey our gratitude for our 25th Anniversary. Throughout the year of our 25th Anniversary, we'd like to release various information and, of course, games as well. But also manga and other things besides that. We hope you can enjoy and celebrate this 25th Anniversary milestone together with us! We will relay our feelings of gratitude to everyone and also have info broadcasts,

"For everyone watching this video today, I'd like to announce four major topics."

Topic 1: Illustrations and Congratulatory Messages

"First, Topic 1: On our special CyberConnect2 25th Anniversary website, we'd like to display your illustrations and congratulatory messages. Of course, this includes fans, but also members in the industry: manga artists, animators, and other game creators like us. There's quite a lot of people who draw. It doesn't matter if it's black and white or color, and if you can't draw, you can write a message. We'll take it and put it all together, and put it on the site, but this leads into the next topic."

Topic 2: New Song by LieN

"Topic 2! CyberConnect2 has been producing this for more than 10 years: The music unit LieN. All releases have been through Bandai Namco Entertainment. This is the unit that's done the main themes from things like the .hack series. But this time, I'm thinking of making a new song this year to commemorate the 25th Anniversary of CyberConnect2. When it's completed, using the submitted messages and illustrations I mentioned in Topic 1, we'd like to use those and edit them into a sort of music video to share with you. Although these first two topics are a bit connected, we'd be very grateful if you could send us a message or illustration.

"There's one more thing I'd like to say regarding LieN. The situation with the pandemic is still ongoing, but we are currently in the process of making the necessary arrangements to at least have a LieN concert online. We'll announce more about this when the time comes, so please look forward to it!"

Topic 3: CyberConnect2 Official Web Store

"About Topic 3, CyberConnect2 has just opened its official web store. This store offers merch and books not only for Japan– but also internationally! We've made this site so that international fans can also make orders. Much like this video is in Japanese with English subtitles. Everyone who purchases CyberConnect2 merch from the site, we'd like to give you a special postcard that will change every month during the Anniversary year. Starting this month, we'd like to include a set of three postcards with orders. Numbers may run out, so they'll be on a first come, first served basis, but items are well-priced and we'll continue to produce them throughout year. On top of this bargain, we'll include postcards commemorating the 25th Anniversary, do, if you'd like, it'd be great if you could purchase from our web store. There's a lot on the site, so please have a look!"

Topic 4: Congratulation Gifts

"And lastly, Topic 4! This is usually an inside topic among companies, but five years ago, when CyberConnect2 had its 20th Anniversary—I'm in the Tokyo studio now, but the Tokyo, Fukuoka, and the Montreal studio hadn't been made yet, we just had the two studios in Fukuoka and Tokyo—but together I'm very grateful, but we received MANY floral arrangements, mostly orchids, so thank you very much for sending them. We're still caring for many plants here and in the Fukuoka studio, but actually, I'd like you to imagine.

"It's thanks to everyone that we've made it to our 25th Anniversary. We've been working for many people up until now. So, we receive many flowers from all those people. In fact, we receive something everyday. Not just today, February 16, but the next, and the next, and the next day for about a week or more, we receive around 100 arrangements. If that happens, um… we appreciate the sentiment, but our office staff receives flowers all day, from morning to night. When the bell rings, they answer and the florist is like, 'Where should I put them?' Our entrance isn't that big, so it quickly fills the halls and even in the development room. It's like whole place turns into a flower shop, and our office staff is literally covered in pollen. But they give off such a lovely fragrance, it's almost like really nice perfume filling the halls, but it's a difficult environment to work in, right? I'll talk more about this next, but this time we'd like to decline floral arrangements. We'd really appreciate it if you could refrain from sending flowers.

"Instead, we set up our wishlist for this purpose. As game developers, we at CyberConnect2 continue to do our best more than ever before. On top of that, we always budget our capital investments every year. If we could add a little something, like upgrading tools just enough so things don't change much, or things to make everyday work easier. When we only thought about how to make the time spent in the office a little more comfortable for the staff. Everybody thought really hard, and we ended up making a long list. Listed items are seriously all over the place, some small things that people are particular about, or just worth 500 yen. We've placed some hefty items on the list as well, like some ten thousand yen monitors and such. Of course, we'd appreciate anything.

"So, if you think, 'Oh, it's CyberConnect2's 25th Anniversary. Go send 'em some flowers!' Maybe people are instructed by their bosses to do this, but we thank all who are watching this video and hope you can share it, too! 'Actually, CyberConnect2 said they'd prefer this over flowers.' Actually, there's many things cheaper than flowers. I'm very sorry for the hassle, but it's not problem if you randomly pick something form the list. If you'd like, it would really help us if you send gifts this way. We'll be opening the wishlist to the public, so even fans can use it. Please feel free to send something that's on the list for cheap. Anything like that would make the staff happy. Of course, there is no obligation, so please have a look if you'd like. We'd be extremely grateful if you could support us in this manner."

Closing

"So, in this video today, we discussed these four topics. We're developing the special Anniversary site little by little for this year. We're preparing quite a lot for it, so we'll make more announcements at the proper time. This CyberConnect2 25th Anniversary is really all thanks to you. So, we hope you'll have a fun time along with us and hopefully we can connect even a little online during this pandemic. I hope this will be a special year, and watch out for additional announcements. We'll be releasing more information in the future.

"As that first step, I wanted to talk about these four topics. Once again, I'd like to start this special year here! This is the official start of CyberConnect2's 25th Anniversary Year! This is all thanks to you! We will continue to do our best to create various works with our whole being! Thank you very much for your support.

"This was CyberConnect2's Hiroshi Matsuyama!"