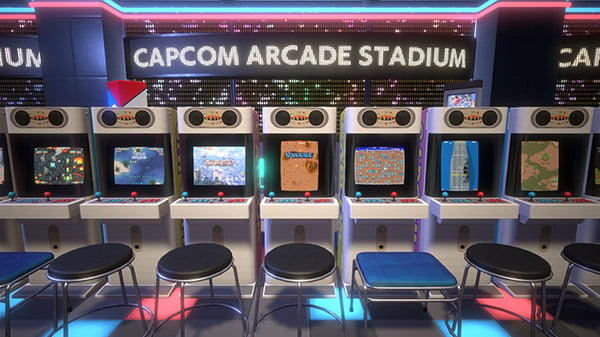 Capcom will release Capcom Arcade Stadium for PlayStation 4, Xbox One, and PC via Steam following the launch of the Switch version on February 18, the company announced. A release date for the newly announced versions was not announced.
Get the latest details below, via Capcom.
Capcom Arcade Stadium offers three different packs of 10 games that each highlight a different era of Capcom arcade goodness. The collection also includes the free-to-download 1943: The Battle of Midway and the separate add-on title, Ghosts 'n Goblins. Retro fans can select specific packs or purchase an all-in-one option containing the 32 games together.

The three individual packs in Capcom Arcade Stadium are available for MSRP $14.99 each, and offer access to '80s classics like Bionic Commando and Strider, or '90s favorites like Super Street Fighter II Turbo. The Ghosts 'n Goblins add-on game will be available for MSRP $1.99. Players can also opt for the all-in pack containing all 32 games, including all three packs of 10, the free 1943: The Battle of Midway, and the add-on Ghosts 'n Goblins, for MSRP $39.99. In addition to releasing on Nintendo Switch, Capcom Arcade Stadium will also be coming to the PlayStation 4 computer entertainment system, Xbox One, and Steam. More information regarding these platforms will be revealed at a later date.

To celebrate the resurrection of the legendary Capcom series, the original Ghosts 'n Goblins will be available for free as an add-on game for Capcom Arcade Stadium prior to the February 25 release of Ghosts 'n Goblins Resurrection. After that release, the Ghosts 'n Goblins add-on game will be available for individual purchase or as part of the all-in Capcom Arcade Stadium pack.
Watch the Switch version launch trailer below. View a new set of screenshots at the gallery.