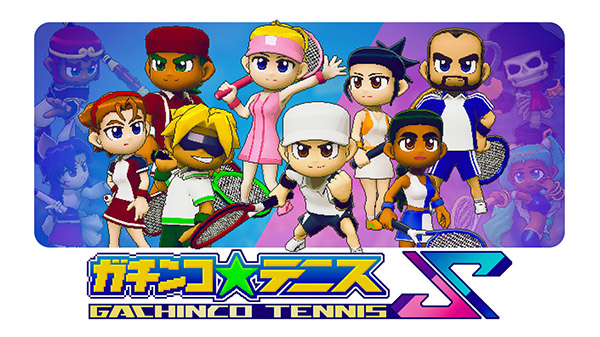 Alphawing Games has announced and released Gachinco Tennis S for Switch via the Nintendo eShop in Japan for 1,200 yen.
Here is an overview of the game, via the Nintendo eShop:
About

"Press the button the moment the ball hits."

Although traditional, Gachinco Tennis S is an action game that uses an extremely simple yet exhilarating shot method. Enjoy high-speed rallies that will make your palms sweat.

The Magical Shot, which can be activated with the press of a button, is a powerful shot with various effects other than appearance and movement, but it is by no means a special move. It falls into the same category as flat shots and lob shots. There are 24 playable characters, each with their own unique Magical Shot.

Key Features

Tag-Style Matches – Select two characters at the start of the game and switch between them instantly during the match.
Tag Tournaments – A tournament in which all eight teams participate. With without continues to face new challengers. By defeating these challengers, you can unlock them as playable characters.
Knockout Battles – Play a series of tie-breaker matches against challenger after challenger.
Two Movement Styles – Move on your own with "Manual Mode," or move automatically and focus on shooting with "Auto Mode."
One Joy-Con Per Player Multiplayer – Play local multiplayer with a friend, with each player using one Joy-Con.

Other Features

3D pixel art graphics.
Stamina and Spirit gauges.
Magic count that displays Magical Shot number of uses.
Berserker Mode with unlimited Magical Shots.
Magical Shot reversals that can send back the opponent's Magical Shot.
Stunned state that indicates the player is out of stamina.
Racket destruction that enables the player to destroy the racket of a stunned opponent.
Strong areas that indicate each character's strong spots.
Recovery items that randomly appear.
Watch the announcement trailer and a gameplay video below. View a set of screenshots at the gallery.
Trailer
Gameplay