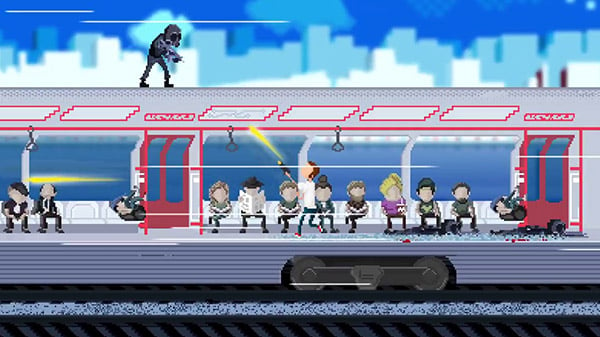 Speed Limit, the "one take, non-stop arcade experience" game, will launch for PlayStation 4 on February 16, PC via Steam on February 17, Switch on February 18, and Xbox One on February 19, publisher Chorus Worldwide and developer Gamechuck announced.
Here is an overview of the game, via its Steam page:
About

A daily train commute gone wrong: Speed Limit is a one take, non-stop arcade experience that never slows down. An old-school shooter boiled down to its core elements: Hard. Fast. Addictive.

As soon as you think you've learned how the game works, it changes to a completely different genre, taking you through the history of the golden arcade era.

Running. Driving. Flying. Dying (many, many times!). From the moment you click play to the moment you die, you are in control.

And you will die. A lot.

Key Features

A thrilling genre-switching rollercoaster that will test the limits of your reflexes.
Unlockable endless mode.
No tweening, no skeletons: All graphics are hand-drawn frame-by-frame.
The flagship of the award-winning Gamechuck Arcade.
Watch a new trailer below.