R-Type Final 2 fourth trailer
Due out on April 29 in Japan.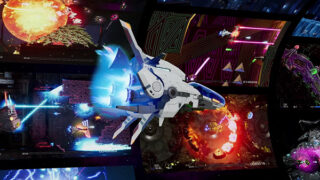 Granzella has released the fourth official trailer for R-Type Final 2.
Here is an overview of the game, via western publisher NIS America:
About

The legendary shoot 'em up hit is back with unparalleled R-Type experience! As the latest installment of a series renowned for its colorful visuals and frenetic shooter action, R-Type Final 2 steps it up in its explosive debut on current platforms with 3D graphics and modernized gameplay features. New and old players alike can shape their experience to their liking with the performance-based difficulty system and customizable ships and pilots, while experiencing classic R-Type trademarks such as the "Force" mechanic and an addictive gameplay loop. Navigate an entire universe of new and classic stages, face enemies that evolve with your performance, and blast the competition away with worldwide leaderboards in this successor to the acclaimed R-Type franchise.

Key Features

Enhanced and Evolved – Experience R-Type's explosive return on current platforms, where the frenetic action of the original games meets contemporary visuals and modern gameplay features such as evolving enemies.
Universal Challenge – The performance-based difficulty system adjusts to each player's individual experience, making this game accessible to new and old pilots alike. When you're done decimating the alien hordes, check out the worldwide leaderboard to see how you stack up against other pilots!
Customized Loadout – Personalize every element of your ship, including coloring, types of weapons, and decals. Additionally, choose among dozens of fighters that appeared in previous series installments, and even customize your pilot to your liking.
R-Type Final 2 is due out for Xbox Series, PlayStation 4, Xbox One, and Switch on April 29 in Japan. The western release date, as well as the release date for the PC version (Steam, GOG, Epic Games Store, and DMM Games), will be announced at a later time.
Watch the trailer below.