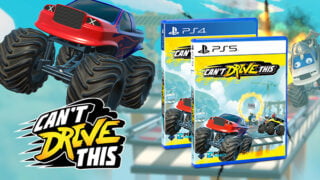 Multiplayer party racing game Can't Drive This will exit Early Access and launch for PlayStation 5, Xbox Series, PlayStation 4, Xbox One, Switch, and PC via Steam this spring, the companies announced.
Can't Drive This first launched in Early Access for PC via Steam in September 2016, and is planned for a full release in 2021.
"We didn't develop Can't Drive This as a remedy for low blood pressure, but it is what it is," said Pixel Maniacs creative director Steve Crouse in a press release. "We know how important physical copies are to people and we are thrilled that our fans will have the option to own Can't Drive This in physical format."
Perp Games managing director Rob Edwards added, "Sometimes the simplest ideas are the best and Can't Drive This had everyone at Perp in fits of laughter. It is such a massive pleasure to add Can't Drive This to our growing portfolio of current and next-gen games, we are proud to be working with such a talented team."
Here is an overview of the game, via Perp Games:
Can't Drive This is a competitive cooperative multiplayer party racing game (yes, this is such a thing) and some of the most fun you will have on your console in 2021.

The unique gameplay sees players frantically building the road in front of them as your co-op partner attempts to drive their monster truck on your newly made raceway. Easy right? Maybe, but the driver must keep the vehicle above the speed-limit, or the vehicle will explode (heard that plot line before). Of course, if they they drive too fast, they will run out road, so don't think you get it easy as the road builder. Then, if you can't take the pressure of building the track, customize your own truck with gazillions of options and try your hand at driving while your mate scrabbles to pave the way.

With two-player online multiplayer game as well as up to four players on local split-screen, single-player, four game modes, literally trillions of customizable options across vehicles and tracks (no, we have not tried them all), and leaderboards, the intense fun never stops.
Watch a new trailer below. View a new set of screenshots at the gallery.