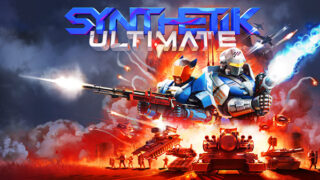 Flow Fire Games will release tactical shooter SYNTHETIK: Ultimate for Xbox One and Switch on December 16, followed by PlayStation 4 at later date, the developer announced. It will be available at a limited 33 percent-off discount price of $9.99 / €9.99 at launch, before changing to $14.99 / €14.99.
SYNTHETIK: Legion Rising first launched for PC via Steam and GOG in March 2018. All the content added to the PC version post-release is included in SYNTHETIK: Ultimate for consoles.
SYNTHETIK: Ultimate will also include new content, which will be made available for the PC version as a free "Ultimate Edition" expansion. This includes new story cutscenes and boss introductions, eight new rare enemy squads, the new Alchemy Shop containing 12 new synergy items, a final battle in the Armageddon Room, Weapon Modding (PC-only), and more.
"2020 has been a great year for us with more than 200,000 copies of SYNTHETIK sold on PC this year alone, and we're looking forward to an even more exciting 2021—we will reveal more about that soon!" said Flow Fire Games co-founder Alexander Luck in a press release. "To celebrate we've wrapped up a great Christmas package for the end of the year as we release the Ultimate Edition expansion for SYNTHETIK: Legion Rising for PC and it arrives on consoles as well with the release of SYNTHETIK: Ultimate! We think the Nintendo Switch, Xbox One, and PlayStation 4 are all excellent platforms for action games, and our mission is to offer these players a fast-paced shooter experience with the purity of the action seen in old-school titles, combined with the replayability of a modern roguelike."
Here is an overview of the game, via Flow Fire Games:
About

Fight against relentless opponents and unforgiving bosses encased in ever-changing environments. Master the uniquely deep and satisfying weapon mechanics and the unprecedented amount of customization. Discover a seemingly unending amount of weapons, items, perks, and character upgrades.

The Next Level in Gunplay

Master SYNTHETIK's uniquely rewarding magazine eject and active reload mechanics!
Weapons can jam and overheat, check yourself before you burn yourself!
Tame the movement based recoil, discard and switch between varied ammo types.
Savor the uniquely satisfying and direct weapon handling, rewarding precision and mastery!
We even brought headshots to the top-down perspective for the first time!

What makes SYNTHETIK so special?

Freedom and Experimentation

There are many ways to play and an endless number of gear combinations. Everything can work! Play stealthy and tactical? Let turrets do the work? Heavy weapon madness? Slice and dice with your plasma blade?

The Gadgets you find enable new play-styles and each can be greatly multiplied in their power!

From Laser Mines to Turrets, Mind-Control, Psy Fields, Orbital Lasers, Pets and weird potions, each of the 140-plus Items can make your day if you let them… and you can have up to nine at the same time! Experiment and adapt!

Customization

Level up all eight unique and highly customizable class specializations! Play as a Riot Guard, Breacher, Sniper, Assassin, Raider, Heavy Gunner, Engineer, or Demolisher, each with their own weapon specializations, loadouts, benefits and perks. Research & Class unlocks persist through death!

Modular Difficulty

Choose from 11 difficulty modifications which can be independently combined for a tailored experience. Up the ante for greater risks and rewards or play it safe.
Watch the announcement trailer below.