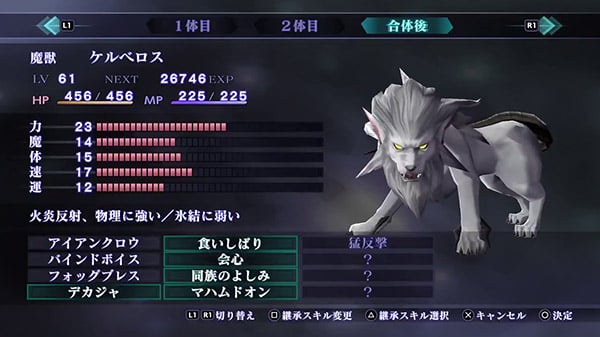 Atlus has released the version 1.02 update for Shin Megami Tensei III: Nocturne HD Remaster in Japan, which adds "Skill Shuffle" and "Skill Inheritance" features to demon fusion.
Get the patch notes below.
Bug Fixes

Fixed a bug that prevented trophies from unlocking in certain situations.
Fixed a bug so that normal attack motions are performed at high-speed in auto-battle.
Other bug fixes.

Additional Features

Added a Skill Shuffle feature and Skill Inheritance feature to the fusion results screen in the "Cathedral of Shadows" facility.

Feature Improvements

Improved input response for all facilities, the status screen, Magatama screen, and save / load screen.
The total count of the "Demonic Compendium" has been revised to be able to reach 100 percent completion even when only Maniax Mode is played.
Game balance has been adjusted for the downloadable content "Master's Expectations" and "Little Master's Mercy."
Shin Megami Tensei III: Nocturne HD Remaster is available now for PlayStation 4 and Switch in Japan, and will launch in spring 2021 in the west.
Watch a new set of gameplay videos below.
Skill Shuffle
【 #真3HD アップデートVer.1.02を配信開始】
悪魔合体時の「継承スキルのシャッフル機能追加」などを実装。□ (Y)ボタンを押すことで、継承するスキルを一括変更できます。
詳細はこちら:https://t.co/Vxvi0LKWf4
※アップデート内容はPS4/Nintendo Switch共に共通です
※動画はPS4のものです pic.twitter.com/PwerZHduBo

— 『真・女神転生』シリーズ公式 (@megaten_atlus) December 23, 2020
Skill Inheritance
【 #真3HD アップデートVer.1.02を配信開始】
悪魔合体時の「継承スキルの任意選択機能」などを実装。X (△)ボタンを押すことで、継承するスキルを直接選択できます。
詳細はこちら:https://t.co/Vxvi0LKWf4
※アップデート内容はPS4/Nintendo Switch共に共通です
※動画はNintendo Switchのものです pic.twitter.com/1QPiUmOhTX

— 『真・女神転生』シリーズ公式 (@megaten_atlus) December 23, 2020