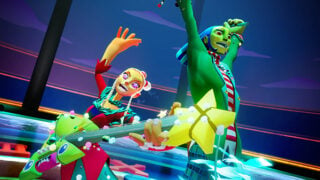 Publisher Sold Out and developer Metronomik will release the "Christmas Edition" update for the PlayStation 4, Xbox One, and PC versions of No Straight Roads later this week, the companies announced. The Switch version will follow at a later date.
As its title implies, the update brings Christmas to the world of No Straight Roads, remixing the games with new Christmas music, decor, outfits, album art, and visual effects to celebrate the holiday season. Almost every boss and their stages have been given a Christmas makeover.
Players will be able to access "Christmas Edition" content through the boss fight menu in Vinyl City.
No Straight Roads is available now for PlayStation 4, Xbox One, Switch, and PC via the Epic Games Store.
Watch the "Christmas Edition" update trailer below.