Grindstone for Switch now available
iam8bit opens pre-orders for physical edition.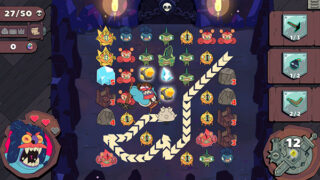 The Switch version of Capybara Games-developed puzzle game Grindstone is now available via the Nintendo eShop for $19.99 / €16.79 / £15.09 with a 25 percent-off launch discount, the developer announced.
iam8bit has also opened pre-orders for a physical edition, which includes an exclusive set of custom creep-gut-colored crayons for $34.99. It will ship in 2021.
"We're stoked for everyone to finally play Grindstone on Nintendo Switch," said Capybara Games studio director Joel Burgess in a press release. "We've made major, Switch-focused UI improvements, and included all of our content updates so far, making this an awesome entry point for new players, or existing stonegrinders who want to experience the game on console. We're incredibly excited to bring the world of Grindstone to a whole new audience, and can't wait to share even more updates in 2021."
Here is an overview of the game, via Capybara Games:
Capy's colorful puzzler makes its debut on Nintendo Switch with a year's worth of content updates not seen in its original release, including:

Dozens of challenging, treacherous levels—over 250 levels in total!
The Greed Grind and Quick Grind game modes, with daily leaderboards.
The Slöphöuse update, which fills the world of Grindstone with never before told lore of the colorful and squishy Creeps and Jerks that inhabit Grindstone Mountain. Made for the most devoted Grindstone scholars!
End-game Gold economy, with blueprints for gold-plated items in hidden caves.
New control and UI improvements for widescreen and touch/controller play.
A rogue's gallery of slimy enemies, cunning bosses and devious traps.
Helpful items and stylish outfits that change up how you play.

Like Grindstone's brawny protagonist Jorj, Capy is hard at work, and Grindstone will continue to see free meaty content updates on all platforms in the coming months.

Grindstone is a game of sword-slashing puzzle battles from the award-winning studio behind BELOW, Sword & Sworcery EP, Super Time Force Ultra, Critter Crunch, and Might & Magic: Clash of Heroes! Grindstone first released on Apple Arcade in September 2019 to widespread acclaim, earning many awards and nominations.

Grindstone Mountain is overrun with vicious Creeps! Slay your way up its treacherous peak where fortune, glory (and death) awaits!

It'll take sharp puzzle skills and an even sharper blade to slice your way through the swarms of bloodthirsty Creeps dwelling within Grindstone's dungeons. Battle bosses, loot resources, discover long-lost blueprints for powerful gear, all while eviscerating the innards from your deadly foes! Over 200 levels of intense puzzle-battling madness!
Watch a new trailer below.