Granblue Fantasy Fes 2020 schedule announced
Official website opened.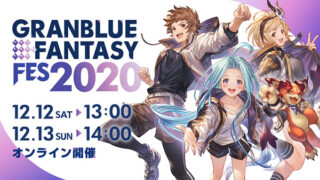 Cygames has opened the official website for Granblue Fantasy Fes 2020, unveiling the event's full live stream schedule.
As previously announced, Granblue Fantasy Fes is an online-only event this year due to the ongoing COVID-19 pandemic.
Cygames will share various new information at the event. While specifics have yet to be announced, the company teased it will share the latest on long-in-development action RPG Granblue Fantasy: Relink for PlayStation 4—including a release date.
Get the full schedule below. (All times are Japan Standard Time.)
December 12 (YouTube, Periscope)

13:00 to 13:45 – Opening – Featuring Yuuki Ono, Emiri Katou, Nao Touyama, Yoshihisa Kawahara, Rika Tachibana, Yuito Kimura, and Tetsuya Fukuhara.
13:45 to 14:45 – Granblue Fantasy So Far 2020 – Featuring Emiri Katou, Nao Touyama, Asami Imai, Minoru Shiraishi, Yuito Kimura, and Tetsuya Fukuhara.
15:00 to 16:00 – Official Cast Stage
16:15 to 19:15 – Granblue TV Channel! Fes Edition – Featuring Yuuki Ono, Emiri Katou, Nao Touyama, Kazuhiko Inoue, Tetsu Inada, Jun Fukuyama, Asami Imai, Minoru Shiraishi, Madoka Yonezawa, Takuya Eguchi, Ryouta Oosaka, Yuito Kimura, and Tetsuya Fukuhara.
19:15 to 02:00 (December 13) (YouTube) – Satellite Stage – Featuring Yoshihisa Kawahara, Rika Tachibana, Inuko Inuyama, Takanori Hoshino, and more.
21:00 to 23:30 – Granblue Night Party – Requires 3,000 yen ticket purchase. Featuring Ichirou Mizuki, Tetsu Inada, Kishou Taniyama, Asami Imai, Kana Ueda, Aya Hirano, Minoru Shiraishi, Ryoko Shiraishi, Ryou Hirohashi, Emiri Katou, Madoka Yonezawa, Yuuki Ono, Akiko Hasegawa, Hisako Kanemoto, Natsumi Takamori, Rika Tachibana, Asami Seto, Nao Touyama, Junya Enoki, MAO, Mark Ishii, and Minami Tanaka.

December 13 (YouTube, Periscope)

14:00 to 15:10 – Stella Magna Special Live in Granblue Fantasy Fes 2020 – Featuring Stella Magna, Taro Kobayashi, CHiCO (from ACE), and STEVIE (from 44MAGNUM).
15:10 to 16:40 – Granblue Fantasy Q&A – Featuring Yuuki Ono, Emiri Katou, Nao Touyama, Yuichi Nakamura, Yuito Kimura, and Tetsuya Fukuhara.
16:40 to 18:00 – Granblue Fantasy Fes Special Character Live
18:30 to 21:30 – Granblue Broadcast: Christmas Special – Featuring Yuuki Ono, Emiri Katou, Nao Touyama, Kana Ueda, Yoshihisa Kawahara, Yuichi Nakamura, Ryoko Shiraishi, Takanori Hoshino, Rika Tachibana, Ryouta Oosaka, MAO, Yuito Kimura, and Tetsuya Fukuhara.
21:45 to 22:35 – Granblue Fantasy Fes 2020 Special Show: Ao no Kiseki "The Stars of the Sky"