Rune Factory 5 details romance options Fuuka, Ludmilla, Murakumo, and Lucas, townspeople Misasagi and Elshe
The latest batch of characters introduced.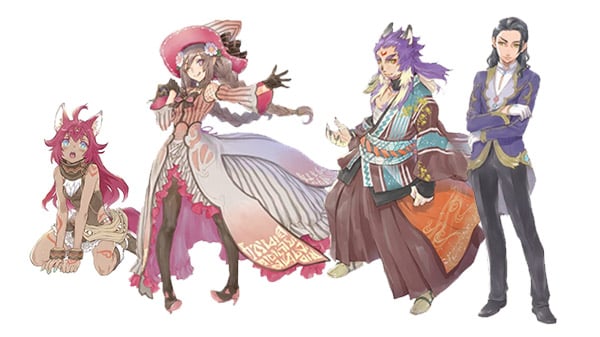 Marvelous has released new information on Rune Factory 5 introducing several new characters, including romance options Fuuka, Ludmilla, Murakumo, and Lucas, and and townspeople Misasagi and Elshe.
Get the details below.
■ Bachelorettes and Bachelors

Fuuka (voiced by Aki Toyosaki)

A wereanimal girl who ends up in Rigberth after roaming various lands. While she had a rough life before she came to town, she now has the mentality to look back on it and laugh. While she cannot read and write human language yet, she can intuitively tell when others are lying thanks to her animal instincts. She is extremely honest.

Ludmilla (voiced by Sumire Morohoshi)

A succubus girl who breathes love. She enjoys the feeling of living on the edge and is crazy about the protagonist. While she may come off as selfish and egotistical, she sets rules for herself and is quite serious. As a succubus, she has caused misfortune to people in the past and has since distanced herself from others.

Murakumo (voiced by Shunsuke Takeuchi)

A wereanimal young man who runs Rigberth's only inn. Although lively and laid-back, he is a kind and chivalrous spirit. He has an overly strong desire to entertain his guests, and continues to lose money over his excess services. After meeting the protagonist, he tries to revamp the inn by taking his guests' advice into consideration.

Lucas (voiced by Shoutaro Morikubo)

An amnesiac gentleman who shows up in town as a mysterious traveler. He shows an interest in everything and is not hesitant to take action. Since he records his interests in his notebook, he may have come to town because there is something he needs to examine. While he may have lost his memory, he is still extremely knowledgeable and can perfectly assess ores and such.

■ Townspeople

Misasagi voiced by Yukiyo Fujii)

A wereanimal woman and Murakumo's older sister. She overly adores her only daughter Hina. She has come to town to make sure her younger brother is managing the inn properly.

Elshe (voiced by Akari Kitou)

A woman who runs a restaurant. Priscilla's older sister. She is very clear about what she likes and dislikes, and while she is reluctant to do anything, she is naturally gifted with them when she does.

■ Become a Member of the Guard and Go on an Adventure with Friends

Rune Factory 5 is set in Rigberth, a town surrounded by nature in the Nohrad Kingdom. The protagonist, who lost their memory, becomes a member of the guard organization Seed and their adventure unfolds from there. Players can choose between a boy and girl protagonist.

■ The Dark Conspiracy Surrounding the "Runes" Sneaking Up on the Tranquil Town

In this world, energy known as "runes" preserve the harmony of people and nature. Multiple unusual events surrounding these runes have been occurring in Rigberth.

■ Take on "Requests" and Protect the Town's Peace

The townspeople post "requests" for members of Seed on the town bulletin each day. There are all sorts of requests, such as help looking for something, defeating monsters, and so on. When you complete a request, you will receive "Seed Points," which can be used for "Making."

■ Improve Your Life Through "Making"

You can perform "Making" by spending Seed Points. In Making, you can do a variety of things that improve your life, such as hold a festival, acquire blacksmithing and cooking licenses, develop useful tools, and more.
Rune Factory 5 is due out for Switch on May 20, 2021 in Japan, and in 2021 in the west. Read more about the game here.
View the screenshots at the gallery.