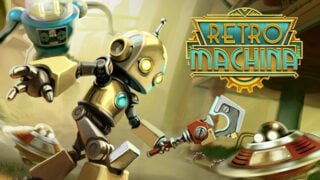 Retro-futuristic action puzzle adventure game Retro Machina will launch for PlayStation 4, Xbox One, Switch, and PC via Steam in Q1 2021, publisher Super.com and developer Orbit Studio announced.
Here is an overview of the game, via Super.com:
About

Equipped with the ability to control other machines, our hero must use all the tools at his disposal to rebuild himself and find out if any intelligent life remains. He must explore the desolate, disintegrating maze-like terrain, overcome the harsh environment, and take control of deadly antagonistic automatons in order to discover the mysteries of the world and the origins of its only remaining city.

As the only surviving city of a long-dead world, Endeavour City has for centuries existed as a robot utopia, following a strict set of rules and processes in an effort to maintain its perfection; a perfect world where imperfections must not remain. To all its inhabitants, the city under a great glass dome is as it was from the start, but something in the crumbling towers and overgrown roadways seems off to one, malfunctioning robot. With his former family turned against him, he must navigate the land beyond the domed city, overcome the treacherous challenges that face him, and seek help for his much-loved home.

Set in a vibrant hand-drawn avant-garde retrofuturistic environment, Retro Machina draws inspiration from the works of science fiction's foremost authors, Isaac Asimov and Arthur C. Clarke. Players are invited to explore four diverse biomes, each with their own unique aesthetic and vicious bosses.

Key Features

Painterly Futurism – Set in a beautifully vibrant, hand-painted avant-garde retrofuturistic environment, players will explore spaces and scenery that are reminiscent of some of the works of legendary futurism artist Jaque Fresco. With diverse biomes to explore, unique and varied enemies to overcome, Retro Machina is a gorgeous journey to embark upon.
Alone, But Not Defenseless – You may be small, but you are definitely not helpless. As a worker drone, you can hack into the minds of other robots and take control of their actions, allowing you to defend yourself against ruthless attackers and solve intricate puzzles.
Fix Yourself Up – You're on your own now, so you must prepare. Armed with your trusty wrench, gather parts and tools to mend your malfunctioning body, and upgrade your defenses and combat abilities to battle against the vicious robot defense force dead set on keeping you from returning to Endeavour City.
Explore the Unknown World – Throughout your journey, you will travel through four extraordinary areas, each with dozens of exceptional enemies, unique and challenging bosses, hidden secrets, and thought-provoking puzzles to solve.
Watch a gameplay trailer below. View a set of screenshots at the gallery.