Ranshima Monogatari Lairland Story: Shoujo no Yakujou Remake coming to Switch on November 12 in Japan
Currently available on PC via Steam.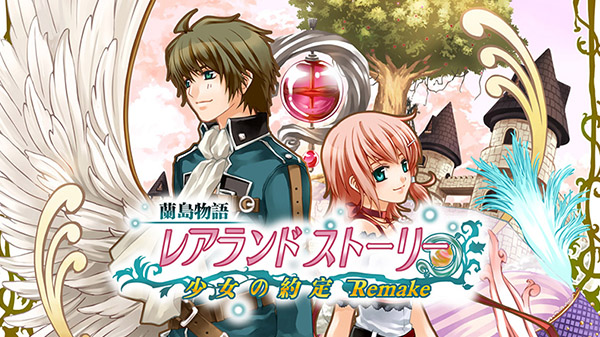 CIRCLE Entertainment will release a Switch version of Ranshima Monogatari Lairland Story: Shoujo no Yakujou Remake via the Nintendo eShop on November 12 in Japan for 2,000 yen, the publisher announced.
Ranshima Monogatari Lairland Story: Shoujo no Yakujou Remake is a remaster of the July 2009-released PSP title. The remake first launched for PC via Steam in April 2020 with support for Japanese, Simplified Chinese, and Traditional Chinese language options.
Here is an overview of the game, via CIRCLE Entertainment:
Story

Lairland, a kingdom that has built its peace and prosperity over a span of hundreds of years. Though that peace was suddenly destroyed by invaders who showed up with falling meteors. In the midst of fierce battle, Hiro, a young baron of Lairland Castle, launched a desperate counterattack against the enemy. And the enemy's leader was finally defeated.

The exhausted Hiro, who trudged along to the holy shrine, encountered a girl sleeping peacefully upon its altar. It was a scene as if the nightmarish horror that engulfed the world was really just a dream. Eventually rising, the girl gave off a radiant glow, light rained from the sky, and the nightmare that struck the world was calmed.

"….Chilia…"

The girl muttered as she tiredly collapsed… After regaining consciousness, she had strangely lost her memory of not only the events that occurred that day, but her memory in general.

As the kingdom rebuilds, Hiro and the girl's story begins.

Key Features

A Charming Story! Protect and Raise the Girl – The core feature of Ranshima Monogatari Lairland Story: Shoujo no Yakujou Remake is its animetic story. The story of protagonist Hiro and his companions will unfold through over 400 scenes. At its core is a love story of the close relationship between Chilia, a girl who lost her memory, and the protagonist, as well as their search for big mysteries and a bit of happiness. Whether you seek happiness for Chilia or happiness for the protagonist himself, their future plus those of the other characters that appear is dependent on your decisions.
The Girl Raising Simulator Bishoujo Fans Have Been Waiting For – Ranshima Monogatari Lairland Story: Shoujo no Yakujou Remake is divided into two parts: "Training Parts," in which you raise the girls parameters; and "Adventure Parts," in which you can enjoy the story. There are four types of training you can instruct: "Lessons," "Work," "Contribute to the Reconstruction of the Town," and "Miscellaneous." Depending on the commands you select, the course of Chilia's growth will change.
More than Just Training and Adventure: Plenty of Additional Activities – Plenty of additional activities have been crammed into the game. Decorations and clothes for Chilia can be purchased at the shop, so you can decorate your love nest, or spend money on clothes and hairstyles for Chilia with 6,500 combinations. Additionally, you can use the materials obtained during "Adventure Parts" to synthesize new items and more. There are endless ways to play!

New Elements Added in the Remaster

In addition to new endings (perfect lover, all heroines gathered), the content and trigger conditions for many events have been adjusted.
New styles for Chilia have been added.
Graphics support up to 720p.
Some effects have been remade and enhanced.
Functionality to skip text on a second playthrough has been added.
Watch the Switch version announcement trailer below.