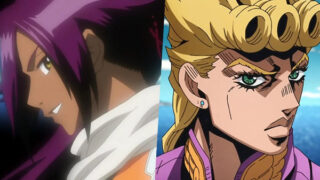 Bandai Namco has confirmed Yoruichi Shihouin from Bleach and Giorno Giovanna from JoJo's Bizarre Adventure as the final two downloadable content characters for Jump Force Character Pass 2.
The characters were confirmed in a message to players regarding a technical mix-up in which the two characters were temporarily released to a small number of Jump Force players.
Get the full message from Bandai Namco below.
Thank you for playing Jump Force.

Due to a minor technical mix-up, some "work-in-progress" character updates were released to a small number of Jump Force players (this issue has now been solved). Additionally, some information regarding unannounced characters was shared via social media platforms by players who received the "work-In-progress" update.

The downloadable content characters which were temporarily released are:

Yoruichi Shihouin (from Bleach)
Giorno Giovanna (from JoJo's Bizarre Adventure)

We would like to clarify that since downloadable content character Giorno Giovanna is still under development, the final version of this character may differ from what was shared on social media platforms. We apologize for any confusion caused by the technical mix-up.

We look forward to releasing our next game update and will have more Jump Force news to share soon. We hope you are looking forward to playing the final versions of the aforementioned characters.

Thank you once again for your continued support for Jump Force.
Jump Force is available now for PlayStation 4, Xbox One, Switch, and PC via Steam.