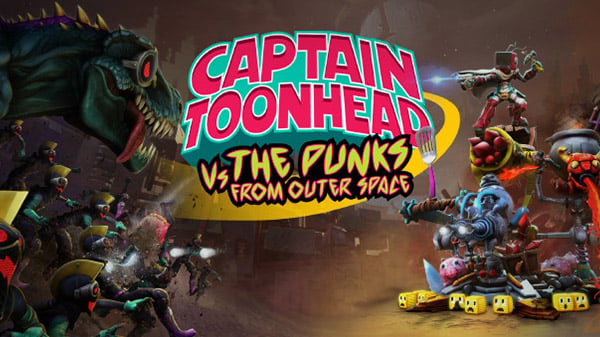 Developer Teravision Games has announced Captain Toonhead vs. the Punks from Outer Space, a virtual reality first-person shooter tower defense game coming to PlayStation VR, PC via Steam and the Oculus Store with support for Oculus Rift, Rift S, and HTC Vive in the first half of 2021.
Here is an overview of the game, via Teravision Games:
About

After the entire defense squad sent by the World Treaty for Freedom (WTF) got fried by a burrito-related explosion, the fate of humanity is at stake. Elliot Salazar, the cartoon-obsessed spaceship technician and only survivor, is now Earth's only hope. Join Elliot and suit up as the heroic Captain Toonhead to save the world from Earth's last dictator, Nikolas Voorhees, and his devious army of cyberpunk minions.

Battle through diverse stages against relentless waves of punks and technologically-enhanced creatures like copter cats, T-Rexes, and merciless cyberchickens. Experiment with Captain Toonhead's armory of upgradable blasters, an overpowered chancla that never misses its mark, and placeable towers that can be manually controlled for maximum destruction.

Combine combat skills and strategy to defend your base and stop punks from stealing Enercubes. Rescued Enercubes can be taken back to Elliot's ship and be spent on permanent upgrades for weapons, turrets, and bases. Clash, protect, and piñata blitz through outer space to stop Voorhees and save humanity!

Key Features

A Blend of First-Person Shooter and Tower Defense in Virtual Reality – Fight at the front lines while strategically placing upgradable towers and blasting away foes.
Harness an Outlandish Arsenal – Wield a weaponized chancla, dual blasters, and controllable towers with unique firepower like electrified pizza or a lethal piñata blitz.
Rescue, Upgrade, and Overcome – Complete missions to rescue Enercubes that can be assigned to permanent offensive and defense upgrades for future battles.
Take Down an Army of Punks – Faceoff against a ridiculous lineup of enemies including terra-sharks, cyberchickens, and T-Rexes, which can all spawn with a variety of perks like jetpacks, explosive care packages, and healing bots.
Become the Greatest Hero – Replay past missions with purchased upgrades to unlock achievements and master each stage.
Watch the announcement trailer below. Visit the official website here.