Super Smash Bros. Ultimate DLC character Steve from Minecraft announced
(Or Alex, Zombie, or Enderman.)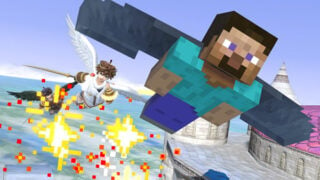 Nintendo has announced Super Smash Bros. Ultimate downloadable content character Steve from Minecraft.
Steve is the second of six characters part of the "Fighters Pass Vol. 2." The first was Min Min from ARMS. He includes four skins, the others being Alex, Zombie, and Enderman.
Nintendo will host a "Mr. Sakurai Presents: Steve & Alex" live stream with director Masahiro Sakurai featuring more information and a release date on October 3 at 7:30 a.m. PT / 10:30 p.m. ET. You will be able to watch it on YouTube.
Super Smash Bros. Ultimate is available now for Switch.
Watch the Steve announcement trailer and live stream archive below.
Trailer
Live Stream Archive