Ghost of Tsushima to support 60 frames per second on PS5
Plus even faster loading.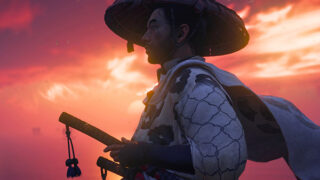 PlayStation 4 title Ghost of Tsushima will leverage the Game Boost functionality on PlayStation 5 to enable a frame rate of up to 60 frames per second, publisher Sony Interactive Entertainment and developer Sucker Punch Productions announced.
"PlayStation 5 owners playing with Game Boost will see an extra option to allow frame rates up to 60 frames per second," Sucker Punch Productions said in a tweet, "and while loading speeds on the PlayStation 4 are already great, just wait until you see them on the PlayStation 5!"
The developer also confirmed that your save file from PlayStation 4 can carry over to PlayStation 5. However, this is standard for PlayStation 4 titles running on PlayStation 5.
Ghost of Tsushima is available now for PlayStation 4.
Read more about playing PlayStation 4 games on PlayStation 5 here.
(Screenshot via @majorcroft.)