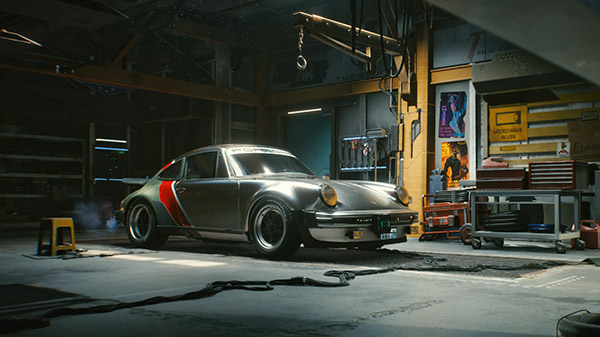 CD Projekt RED debuted new footage and screenshots for Cyberpunk 2077 during its "Night City Wire Episode 4" live stream today introducing the vehicles of Night City, including the Porsche 911 Turbo. A new CG trailer also debuted.
The 911 Turbo is based on the model range first launched back in 1974, and is included in the game as a fully-drivable vehicle. Its presence is tied to Johnny Silverhand, one of the game's primary characters played and portrayed by Keanu Reeves.
The vehicle retains its classic 1977 look while being adapted to the reality of 2077 through the addition of a lidar attached to the front, a set of sensors and elements to identify the vehicle from the air, and electronic mirrors with monitors inside the vehicle.
"Johnny's a legend of the Cyberpunk universe," said CD Projekt RED art director of characters Pawel Mielniczuk in a press release. "When thinking about what kind of car he'd be driving through the streets of Night City, we knew it would have to be one just as legendary as he is. Having Johnny's story in mind, and being huge fans of Porsche ourselves, the answer could only be the classic 911 Turbo."
Porsche has also constructed a real-life and fully operational rendition of the 911 Turbo depicted in Cyberpunk 2077. It will be available on display outside of the Porsche Museum in Stuttgart, Germany from October 15 to 22, and is also featured in a commercial shot on location that tells the story of a car that retains a mysterious connection to its previous owner.
Cyberpunk 2077 is due out for PlayStation 4, Xbox One, PC via Steam, Epic Games Store, and GOG, and Stadia on November 19, and at a later date for PlayStation 5 and Xbox Series X.
Watch the new videos below. View the screenshots at the gallery.
Rides of the Future
An in-depth look at the variety of cars, bikes, and other means of transportation in Night City and beyond, including a sneak-peek at a very special ride belonging to the Cyberpunk legend.
Behind the Scenes: Revving Up Night City
Shows the development team recording audio for the vehicles of the game to help bring them fully to life.
Behind the Scenes: Arch Motorcycle with Keanu Reeves and Gard Hollinger
Both co-founders of Arch Motorcycle talk details about their collaboration with CD Projekt RED on Cyberpunk 2077.
2077 in Style
All about the look, feel, and fashion of 2077's most dangerous megalopolis, as well as that of its inhabitants — those famous, infamous, and everyone in-between.
The Diner CG Trailer
A look at what it takes to get to the top in the world of the dark future.
Cyberpunk 2077 x The 911 Turbo