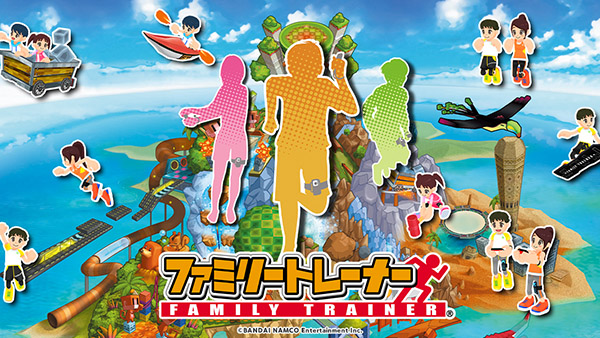 Publisher Bandai Namco and developer h.a.n.d. have announced full-body athletics game Family Trainer for Switch. It will launch on December 17 in Japan for 4,980 yen at retail (includes leg strap accessory) and 3,980 yen via download (game software only).
Here is an overview of the game, via Bandai Namco:
Run! Swing! Jump! Family Trainer, the home exercise athletics game where you play using your whole body, is making its debut on Switch!

No difficult operations required. Attach the Joy-Con to your leg with the leg strap accessory, then run, jump, and move your body as much as possible in 15 mini-games, including:

There are also various training modes such as "Overcome Inactivity Mode" and "Five Minutes a Day Quick Training."

If you have two sets of Joy-Cons and two leg strap, you can also compete or cooperate with a friend or family member in "Play Together" mode.
The Bandai Namco-published Family Trainer series debuted on Wii in May 2008. It has seen the following entries thus far:
May 2008 – Family Trainer (Japan) / Family Trainer: Athletic World (Europe) / Active Life: Outdoor Challenge (North America)
August 2009 – Family Trainer 2 (Japan) / Family Trainer: Extreme Challenge (Europe) / Active Life: Extreme Challenge (North America)
October 2010 – Minna de Bouken! Family Trainer (Japan) / Family Trainer: Treasure Adventure (Europe) / Active Life: Explorer (North America)
Watch the announcement trailer and a 15-second TV commercial below. Visit the official website here.
Trailer
TV Commercial