Axiom Verge 2 delayed to first half of 2021
No longer due out this fall.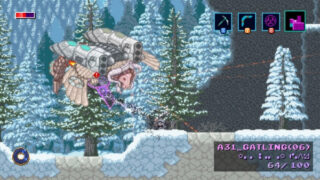 Thomas Happ Games has delayed Axiom Verge 2 from its previously planned fall 2020 release to the first half of 2021. It will be available for Switch when it launches.
Get the latest developer update below.
Predicting the future is hard and never more so than in 2020. About this time last year, I released the first (and still to date only) trailer for Axiom Verge 2, which ended boldly with the words "COMING FALL 2020" in all caps. Alas, despite doing everything I could to make good on my prediction, it will not come to pass. I apologize to all of Axiom Verge's fans who have been waiting to learn more about this universe. For people who don't want to bother reading the entire blog post, the closest I'll go to making another prediction is that it will be out in the first half of 2021. Hopefully sooner in that window than later, but I don't want to disappoint anyone so I'll just leave it there.

So why is it taking so long? I originally based my prediction on the remaining features on my project list and how long those tasks took when I was making Axiom Verge. I don't mean to make excuses, but there were a number of factors that led my project schedule astray.

First, the enemies in Axiom Verge 2 are much more sophisticated than those in the original Axiom Verge. Whereas in the original all of the enemies followed a set path, in Axiom Verge 2 some enemies scan the environment for you, and if they detect you, they'll give chase.

Next, those of you who played the original Axiom Verge will recall one of its most distinctive features, the Address Disruptor tool. That's the tool that lets you glitch enemies and the environment. I don't want to spoil too much, but Axiom Verge 2 has something that serves a similar function but in a way that gives the player more control over the outcome.

Third, the art style for Axiom Verge 2 is far more complex than that of Axiom Verge. You'll notice in these side-by-side views that in the first game, each tile was distinct. This created an intentionally blocky, alien world as befit the storyline. Axiom Verge 2 on the other hand, takes place on a more earth-like planet with natural inclines and dips. In order to capture that difference, it was critical to formulate seamless tiles that can blend into one another. This may seem like a subtle change, but it has far reaching implications for the design, art, and ultimately feel of the game.

Last but not least of course is that nothing's predictable these days. On that crisp wintery morning that I released the trailer for Axiom Verge 2, I was able to do crazy things like talk to strangers up close. My hands weren't raw from washing them every time I touched something that hadn't been in my house for the past 72 hours. My son was making friends at his preschool and hadn't yet started crying in frustration at how poor a substitute a computer screen is for human contact. Nor, for that matter, had any of us.

I am extremely grateful for all of the inquiries into the release date for Axiom Verge 2. I had my concerns about whether people would even care at all about a sequel coming five years after the release of the original. Although it's taking longer than I originally hoped, I am going to do my best to make sure it's worth the wait.