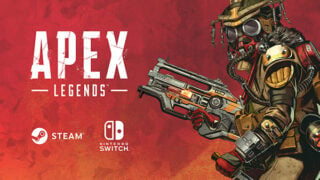 The PC version of Apex Legends will be available via Steam when Season 7 launches on November 4, publisher Electronic Arts and developer Respawn Entertainment announced.
The Switch version of Apex Legends, which was previously planned to launch alongside the Steam version this fall, has been delayed to 2021.
"We're still hard at work on the port, but in order to do justice to the game and make it into the great experience Switch players deserve, our team needs more time," Apex Legends game director Chad Genier said in an update. "This year has brought on unexpected new challenges, to put it mildly, and we don't want to rush anything out."
Grenier continued, "Switch owners can expect to get their hands on Apex Legends next year. And of course, when Apex Legends does launch on Switch, it'll come with support for cross-platform play, our latest seasonal content, and full feature parity with the other versions of the game."
As for the Steam version, users who have been playing the PC version of Apex Legends via Origin will be able to easily switch back and forth with Steam with all account progression and unlocks carried over between the two platforms. Steam players will also receive exclusive Half-Life and Portal-inspired gun charms for logging in during Season 7.
Here is an overview of the game, via its Steam page:
About

Conquer with character in Apex Legends, a free-to-play battle royale shooter where legendary characters with powerful abilities team up to battle for fame and fortune on the fringes of the Frontier. Master an ever-growing roster of diverse Legends, deep tactical squad play and bold new innovations that level up the battle royale experience—all within a rugged world where anything goes. Welcome to the next evolution of battle royale.

Key Features

A Roster of Legendary Characters – Master a growing roster of powerful Legends, each with their own unique personality, strengths and abilities that are easy to pick up but challenging to truly master.
Build Your Crew – Choose your Legend and combine their unique skills together with other players to form the ultimate crew.
Strategic Battle Royale – Use your abilities–and your wits–to make strategic calls on the fly, adapting your crew's strengths to meet new challenges as the match evolves.
Genre-Evolving Innovation – Experience a brand-new array of innovative features that level up the battle royale genre, including Respawn Beacons, Smart Comms, Intelligent Inventory and an all-new way to drop into the action with Jumpmaster deployment.
Sweet, Sweet Loot – Drop in and loot up with a host of powerful weapons, diverse attachments and useful armor to protect you in battle. After the fight, collect a wealth of cosmetic options for personalizing your character and weapons, and unlock new ways to show off during the match.
Apex Legends is available now for PlayStation 4, Xbox One, and PC via Origin.