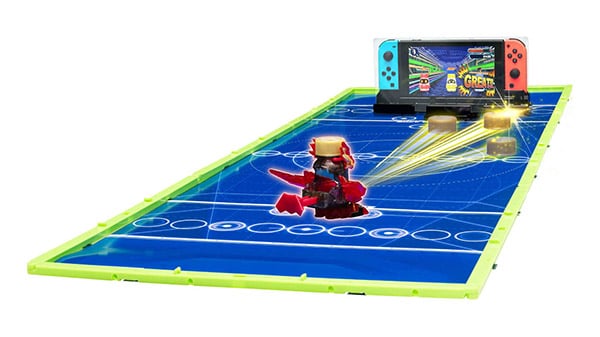 Takara Tomy has announced Cap Kakumei Bottleman, a new line of toys and media themed around shooting bottle caps at plastic bottles.
The project will launch with the release of the "BOT-01 Colamaru," "BOT-02 Aquasports," and "BOT-03 Gyokurock" toys on October 24, each priced at 800 yen.
On the same day, a Switch-compatible "BOT-04 Bottleman Digital Battle Set" will also be available for 4,980 yen, which includes the following:
Field fence (x8)
Stand A (x1)
Stand B (x1)
Stand C (x2)
Switch stand set (x1)
Transparent sheet for battle (x2)
Transparent cover for Switch stand (x1)
Bottle targets with caps (x8)
Limited color Colomaru (x1)
Field sheet (x1)
Urethane foam for Switch stand (x1)
Non-slip seal (x1)
Right Way to Play manual (x1) with game download code
User label (x1)
The Switch game that works with this toy set features a five-stage "DrinQuest" mode and five two-player digital battle modes ("Score Attack," "Hunting," "Just Time 5," "Target Break," and "Badminton").
In addition to the toys and Switch game, a a Cap Kakumei Bottleman anime will broadcast weekly at 16:00 JST on the Takara Tomy YouTube channel starting on October 9. It will consist of 25 five-minute episodes.
Watch a set of trailers below. Visit the official website here.
Cap Kakumei Bottleman Announcement Trailer
Cap Kakumei Bottleman Anime Trailer