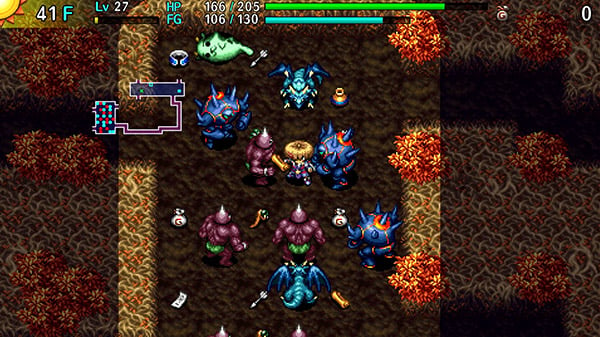 Shiren the Wanderer: The Tower of Fortune and the Dice of Fate for Switch and PC will add a "Live Exploration Display" feature and three new dungeons alongside a couple of other new features, the latest issue of Weekly Famitsu reveals.
Here are the details:
Live Exploration Display
A new feature that displays the player's belongings, status, and other information in an inverted L-shaped area created by slightly downscaling the game screen to the upper left. It can be turned on or off at any time. According to the game's director, this feature is convenient for "Let's Play" videos.
Other New Features
Once heard, background music is registered to a guide and can be replayed at any time.
"Wanderer Rescue"—which allows you to rescue players who were defeated in dungeons, as well as be rescued by other players when you yourself have been defeated—is now supported worldwide, including North America, Europe, and Japan. You can also limit requests to players of the same language.
New Dungeons
Corridor of Life and Death – Set your own target turn before entering. When that turn comes, a gust of wind will blow and result in failure.
Garden of the Fate God – Playable after clearing the game. Earned experience points decreases based on number of attacks and increases with one-shot kills.
Bladeless Wasteland – No weapon drops.
Shiren the Wanderer: The Tower of Fortune and the Dice of Fate will launch for Switch and PC via Steam on December 2 in the west and December 3 in Japan.
Thanks, Ryokutya2089.