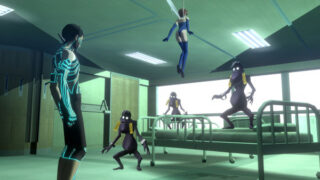 Atlus has released a new set of screenshots for Shin Megami Tensei III: Nocturne HD Remaster featuring Reasons, characters, and city districts.
Here are some details:
System

Reasons – Tokyo, which fell to the Conception, transformed into a Vortex World polluted with demons, where the human survivors and demons fought with each other and plotted the creation of a new world. The conflict soon intensified, with a concentration on the humans that advocate "Reasons," the philosophies of the new world. Former friends transformed into non-humans that advocate Reasons will confront the protagonist. After experiencing these Reasons first-hand, what kind of world will the protagonist choose in the end?

Characters

Musubi – The Reason of Isamu Nitta.
Yosuga – The Reason of Chiaki Hayasaka.
Shijima – The Reason of Hikawa.
Gozu-Tennoh (voiced by Naomi Kusumi)
Manikin Priestess
Manikin
Futomimi (voiced by Yoshimasa Hosoya)
Sakahagi (voiced by Kouji Yusa)

City Districts – The Conception changed the appearance of Tokyo. While the city became a desert and many buildings collapsed, demons and Manikins gather and live in the several facilities and districts that have retained something of their former selves. Some districts have been institutionalized and are ruled under a specific Reason.

Ikebukuro
Ginza
Asakusa
Shinjuku
Shibuya
Amala Network
Shin Megami Tensei III: Nocturne HD Remaster is due out for PlayStation 4 and Switch on October 29 in Japan, and in spring 2021 worldwide.
View the screenshots at the gallery.