Seven Knights: Time Wanderer reveal trailer, first details
Seven Knights spin-off game coming to Switch.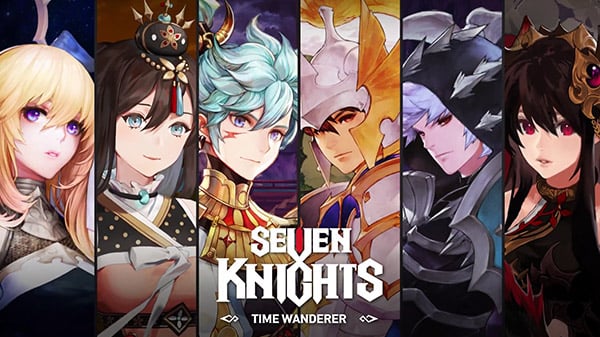 Netmarble has released the reveal trailer and first details for Seven Knights: Time Wanderer, its upcoming spin-off game set in the same world as the mobile game Seven Knights for Switch.
Here are the new details from the official website:
■ About the Seven Knights Franchise

A top RPG mobile game with over over 60 million worldwide downloads.

Enjoy epic fantasy stories revolving around the strongest warriors in the world of Seven Knights.

■ Key Features of Seven Knights: Time Wanderer

A spin-off story in the same world as the mobile game Seven Knights – Vanessa, the eighth member of Seven Knights, and magic instrument Sandy take off an adventure through time and space.
An adventure RPG with a fascinating storyline – Vanessa's story unfolds as she explores various dimensions and recruits allies that become her friends along the way.
Characters with unique skills and stories – The game offers a selection of 15 playable characters.
A dynamic turn-based battle system – Real-time turn-based battles with elements and a leverage system. Form a team of five characters with the most favorable skills and elements for each stage.
Exciting additional content – Return Vanessa to dimensions she's visited to interact with her new friends in Egonyx. Challenge your skills in Lunanyx and Enjoy other exciting content!

■ Story

Vanessa falls into a mysterious place and opens her eyes in darkness. She encounters the legendary magic tool Sandy that has awakened from its seal, and discovers she's grown herself into an adult by going through a leap in time.

Determined to find her way back to her own time and dimension, Vanessa ventures through different times and dimensions with Sandy. She meets new friends along the way and faces new challenges with them, not knowing she'll stumble into a vile plot that might forever upturn her world.

Vanessa needs to find the Time Crystal in each dimension to keep herself from being trapped and lost in time forever. To find her way home and save her friends, Vanessa embarks on a grand adventure through time.

■ Episode I Characters

Vanessa (voiced by Yukari Tamura)

Birthday: January 29
Age: 10
Height: 5′ 6″
Weight: 112 lbs
Blood Type: O

Vanessa was born to the famous Windringer mage family. Young Vanessa explores her house with her friends and opens a sealed door that she was forbidden from entering.

A mysterious magic tool placed in the middle of the room suddenly emits a bright light and envelops Vanessa. Vanessa disappears, leaving her friends bewildered.

Sandy (voiced by Shouya Chiba)

Birthday: ???
Age: ???
Height: ???
Weight: ???
Blood Type: ???

A legendary magic instrument that can transcend time and space, Sandy waited many years to meet its true master.

The Magic Academy decided to entrust Sandy's fate to the famous mage family, the Windringers.

Sandy was kept safely for 800 years with the Windringers until it was awakened by a most unexpected incident.

Hayoung (voiced by Mikako Komatsu)

Birthday: September 28
Age: 23
Height: 5′ 4″
Weight: 103 lbs
Blood Type: A

Hayoung is a descendant of the priestesses from Aisha, and she is the owner of the magical artifact, the Spirit Lamp.

Led by the Spirit Lamp on the search for wandering souls, Hayoung runs into Vanessa in the dimension of the Abyss.

She's kind-hearted and doesn't hesitate to help wandering souls.
A release date for Seven Knights: Time Wanderer has yet to be announced.
Watch the trailer below.
English
Japanese