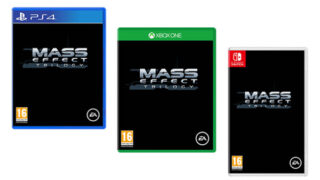 Portuguese retailer Gaming Replay has listed a "Mass Effect Trilogy Remastered" for PlayStation 4 (cached, archived), Xbox One (cached, archived), and Switch (cached, archived) with an October release window.
The unannounced collection would presumably include remastered versions of 2007-released Mass Effect, 2010-released Mass Effect 2, and 2012-released Mass Effect 3.
Back in May, VentureBeat's Jeff Grubb reported Electronic Arts would release Mass Effect Trilogy Remastered in fiscal year 2021, which ends on March 31, 2021. While Grubb did not mention specific platforms at the time, he said not to expect it on Switch—"at least not at first."
Thanks, @Nibellion.