NieR series TGS 2020 Online 'New Info' special set for September 24, 'Mostly No New Info' special for September 26
Latest information on Replicant, Re[in]carnation, and Automata.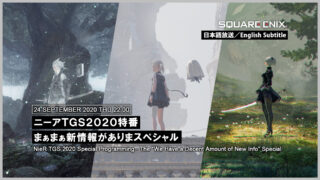 Square Enix will host the "NieR TGS 2020 Special Programming: The 'We Have a Decent Amount of New Info' Special" on September 24 at 22:00 JST, and the "NieR Staff Talk: The 'Mostly No New Information' Special" on September 26 at 22:00 JST as part of its Tokyo Game Show 2020 Online activities, the company announced (2). You will be able to watch them on YouTube (24, 26), Niconico (24, 26), and Twitch.
The September 24 program will feature the latest information on NieR Replicant ver.1.22474487139…, NieR Re[in]carnation, and NieR: Automata, and is pre-recorded and subtitled in English, while the September 26 will include some followup information on the September 24 program, but mostly no new information.