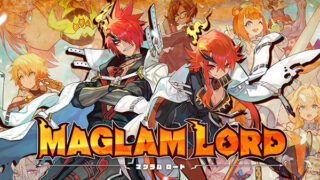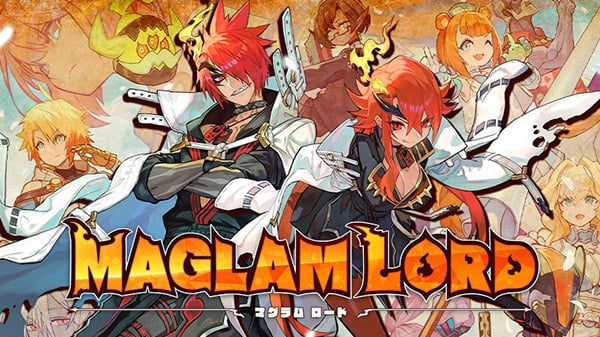 D3 Publisher and developer Felistella have opened the official website and released the debut trailer for "sword creation action RPG" Maglam Lord, providing our first detailed look at the game.
Get the details below.
■ World

Story

In a world where immortal gods and demon lords fight to no end to dominate the realm…

Killrizark, the "Demon Lord of Swords" who can mutilate and destroy even such high-ranking beings without question, was strongly viewed by both sides as the "enemy of the world."

Eventually the Demon Lord of Swords became surrounded by an alliance of gods and demon lords, and was on the verge of being sealed by the Supreme God of Light, Granginion, and his mighty fist.

However, by the devotion of his loyal retainer and "Demon Lord of Iron" Balgackyn, he managed to escape from danger. The worn-out master and servant escaped their pursuers and somehow managed to reach refuge, but fell into a long slumber in order to regain their strength.

Time passed, and the Demon Lord of Swords who finally awakened was shocked to find that his strength had not recovered. That being the case, one should go around eating all the souls within reach to make a swift and complete recovery! The Demon Lord of Swords triumphantly swung into action.

But, what awaited him outside of his lair was a woman with a sweet smile and unfamiliar attire.

"Good morning, Demon Lord. The government has classified you an 'endangered species.'"

Endangered Species

An endangered species is a species classified by the government as on the verge of extinction because its continued existence is difficult. To prevent extinction, official protection activities such as conservation and environmental maintenance are carried out. Other than the protagonist, the possibilities of other rare species such as fairies and sky beasts being classified as an endangered species are increasing. These species, who choose to hide to avoid the flames of war, live poorly and with bated breath, without knowing that peace has come.

Relationship Between Demon Lords and Heroes

Demon lords and heroes, who are both classified as endangered species, have a deep and fated connection. By defeating a demon lord, a hero can "awaken" and become a full-fledged hero. These species were originally supposed to despise each other, but the Demon Lord protagonist for some reason becomes partners with the heroes Darris and Charme. Furthermore, there seem to be many secrets in the relationships between demon lords and partners, such as developing into a "potential marriage partner" relationship as you progress through the story.

A Simple and Exhilarating Magic Sword Creation Action RPG!

Enjoy speedy battles with simple controls. Defeat tough magical beasts to collect the materials necessary to forge new magic swords. The protagonist, the Demon Lord of Swords, can "transform" into a magic sword (maglam) and fight alongside their partner who wields said magic sword.

Enhance Your Magic Swords With Deco Items that Boast Premium Effects!

Attach deco items to your magic swords to arrange the battle to your liking. Not only do deco items grant effects that give you an upper hand in battle, they also come with attack effect changes, sound changes, and perhaps even character personality changes…

An Unprecedented and Thrilling "Demon" Classic!

Upon waking up from a deep sleep, the protagonist learns their species has become endangered. And to prevent their species from becoming extinct, they have to… seek out a marriage partner!? Enjoy a story of adventuring and seeking out a marriage partner alongside servants and magic sword wielders.

■ Game Cycle

(1) Forge a magic sword.

While the protagonist may have lost their power, they can absorb magic by defeating magical beasts. By absorbing enough magic, they can unify their body with a forged magic sword (magic sword transformation) and have their partner wield said magic sword to defeat the magical beast. Gradually forge stronger swords to take down many magical beasts.

Decide which sword to forge. There are three types of magic swords: sword, spear, and axe. If you lack the materials necessary to create one, clear some requests to gather them up.
Determine the quality. There are four types of quality: A, S, SS, and LGD. Improve the quality of your favorite weapons.
Forging complete. When the screen lights up, your magic sword is complete. Attach deco items to customize its abilities and appearance.

(2) Accept a request.

Take on request after request in order to  defeat magical beasts and regain power, as well as to collect the materials necessary to forge more magic swords. There are various types of requests, from simple requests by the townspeople to high-difficulty requests by the government.

Example requests include:

Collect Specific Items
Defeat a Specific Number of Magical Beasts
Defeat a Specific Boss

By clearing requests, you will:

Earn items and materials as rewards
Progress through the story
Increase the friendship with your partners

(3) Go out into the field to explore and battle.

After you choose a request, head out into the field to explore and defeat magical beasts while gathering materials.

You can find items in treasure chests and shiny spots.

Unexpected conversations with your partner may also unfold when taking a breather.

If you run into a magical beast, a battle will begin. The protagonist will become a weapon through "magic sword transformation," and the player control the partner to fight. The controls are simple: strike the enemy with good timing and pile up combos. You can switch weapons, as well as use skills and items, with the press of a button. Deal greater damage by using a weapon that the magical beast is weak against. Special attacks can also be used when in a pinch. Enemies may even drop valuable items.

Repeat steps (1) to (3) to forge the ultimate magic sword.

■ Characters

Killrizark (voiced by Ryuichi Kijima / Akari Kitou)

A survivor of the now endangered demon lord species. They are knwon as the "Demon Lord of Swords" who can freely wield the "magic sword." "Get in my way, and both the gods and the demon lords will be ruthlessly hacked to bits." At the end of this wild behavior, they were subjugated by both sides as an "enemy of the world," and went into a deep sleep to recover. They have no intention of changing their ways upon awakening.

Satius (voiced by Atsumi Tanezaki)

Grandson of the Demon Lord's loyal retainer Balga. An inexperienced member of the demon lord species without a second name. They are making efforts to be a faithful servant in preparation for the Demon Lord of Swords' revival. Although not gifted in the martial arts, Satius is skilled in black magic and knowledge, and willfully supports, admonishes, and watches over the Demon Lord. They tend to feel inadequate and often sighs.

Balgackyn (voiced by Hiroki Gotou)

An old general who was once known as the "Demon Lord of Iron." Also known as Balga. Ever since being defeated by the Demon Lord of Swords, he has followed them as a loyal retainer. He used his body as a shield to help the demon lord escape their death, but paid the price by losing his body and becoming a powerless and peculiar creature. Although he still tries to be a loyal retainer to his lord, he often gets kicked around for being a chatter box.

Darris (voiced by Yoshiki Nakajima)

A young man of the endangered "hero species." He has yet to defeat a "demon lord" and reach his "awakening." While he is persistent about defeating a "demon lord" in order to be recognized as a fully-fledged hero, he seems to be burdened with a major handicap for a hero… He is blunt and talks nothing but trash, but deep down he is honest and considerate of others.

Charme (voiced by Kaori Nazuka)

A young lady of the endangered "hero species." Darris' older sister. She has already defeated another "demon lord" and achieved her "awakening," and is known by the name "Hero of Smiles." She is gentle and kind, but flawed in that she excessively worries when it comes to her younger brother. It seems she made a mistake in the past and feels inferior to her brother because of it…

Officer Mamii (voiced by Yuko Gibu)

A government conservation officer who came to pronounce the revived demon lord an endangered species. In order to fulfill her duties, she is equipped with unknown abilities, including a method of defense that allows her to nullify the demon lord's slash attack. Even so, she is merely a low-ranking public servant. Trying to proceed in a peaceful fashion only gets her jerked around by the demon lord's gang, who refuse to listen to a word she says.
Maglam Lord is due out this winter in Japan.
Watch the trailer below. View the screenshots at the gallery.