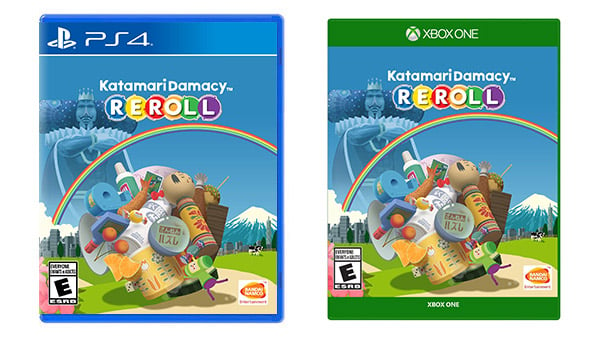 Bandai Namco will release a physical edition of Katamari Damacy Reroll for PlayStation 4 and Xbox One in North America, pre-order listings at Amazon (PS4, Xbox One) and GameStop (PS4, Xbox One) confirm.
Here is an overview of the game, via its store pages:
About

The stop-at-nothing pushing prince is back and ready to Reroll! When the King of All Cosmos accidentally destroys all the stars in the sky, he orders you, his pint-sized princely son, to put the twinkle back in the heavens above. Join the King and Prince of Cosmos on their wacky adventure to restore the stars at home or on the go—now in full high-definition!

Key Features

The Original Katamari Damacy Returns with a Fresh Look – The beloved roll-em-up game returns with fully updated graphics, completely recreated cutscenes and in full high-definition!
Easy to Control, Fun to Play – Play is controlled with the analog sticks only. No buttons to press. No combos to cause distress. Featuring ball-rolling and object-collecting gameplay mechanics of mesmerizing fluidity, reduced to Pac-Man simplicity, through pure absurdity.
A Unique Story with Memorable Music – Enjoy quirky, infectious humor throughout—from the insanely cosmic animations, to the wacky and wonderful musical stylings, to the royally contagious storyline that's undoubtedly like no other.
Have a Ball With Your Friends – Go head-to head with local multiplayer! Roll up the biggest katamari (and even your opponent!) to win the King of Cosmos' praise!
Katamari Damacy Reroll is available now for Switch and PC via Steam, and is due out for PlayStation 4 and Xbox One on November 19 in Japan and November 20 in the west.