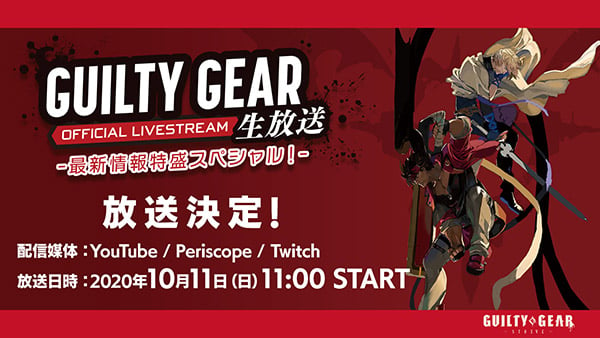 Arc System Works will host the "Guilty Gear Official Live Stream: Latest Information Extra-Large Special" on October 11 at 11:00 JST, the company announced. You will be able to watch it on YouTube, Twitch, and Twitter.
The live stream will feature the following:
The latest information on Guilty Gear Strive, including the latest trailer introducing the game's playable characters.
A special Guilty Gear: Strive exhibition match featuring official players, as well as pro gaming team Cyclops Athlete Gaming players.
A live "Developer's Backyard" for the developers to directly share the latest information on the game design and future plans in response to feedback from fans.
A Guilty Gear: Strive special music video.
Presenters include Yui (official MC), Chloe Yuki (official cosplayer), Airi Taira (official cosplayer), Saika Hattori (official cosplayer), GO1 (pro gamer), Fenritti (pro gamer), Dogura (pro gamer), Takehara (player), TM57 (player), Nage (player), Daisuke Ishiwatari (Guilty Gear: Strive general manger), Akira Katano (Guilty Gear: Strive director), and more.
Guilty Gear: Strive is due out for PlayStation 5, PlayStation 4, PC via Steam, and arcade in spring 2021.