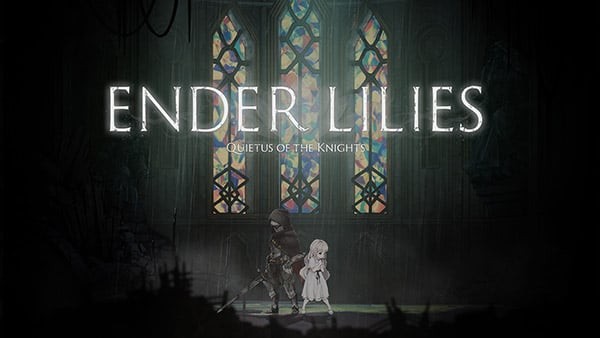 Japan-based publisher Binary Haze Interactive, in cooperation with sister companies and developers Live Wire and Adglobe, have announced ENDER LILIES: Quietus of the Knights, a dark fantasy Metroidvania coming to consoles and PC via Steam this winter. It will support English, Japanese, French, German, Spanish (Spain), Korean, Chinese (Simplified), Italian, Portuguese (Brazil), and Russian language options.
Here is an overview of the game, via Binary Haze Interactive:
Explore a challenging supernatural world to haunting music by musical group Mili, whose credits include Goblin Slayer opening "Rightfully" and other anime franchises such as Ghost in the Shell. The group has created tracks for rhythm games enjoyed by millions, from "Chocological" and four others for Cytus to "Night Point Eight" and 18 more for DEEMO.

Lily, the last surviving priestess in a land devastated by an endless and oppressive rain turning people undead, awakens in a church with no memory of recent events. As she explores beyond the relative safety of the sanctuary, Lily will summon the spirits of purified undead to protect her on a journey to find the source of the rain twisting her home into a haunted shadow of itself.

Established in June 2020, Binary Haze Interactive handles games with atmospheric settings from production to publication. Keisuke Okabe helms the story and game direction for the first of its three upcoming titles, ENDER LILIES, a collaborative effort between Binary Haze Interactive's sister companies Adglobe and Live Wire. The other two titles, under development by Adglobe's teams in Tokyo, Osaka, and Montreal, will be revealed next year.
Follow the game on Twitter @EnderLiliesGame. Binary Haze Interactive also has a YouTube channel.
Watch the announcement trailer below. View the first screenshots at the gallery.
Update 9/12/20 at 12:20 a.m.: According to the Binary Haze Interactive booth description on the PAX Online x EGX Digital 2020 website, ENDER LILIES: Quietus of the Knights will release for PlayStation 4, Switch, and PC via Steam.
Here is the full blurb:
Check out the reveal trailer for ENDER LILIES: Quietus of the Knights, a challenging dark fantasy Metroidvania fairy tale coming to Steam, PlayStation 4, and Nintendo Switch in Q4 2020.

Follow Lily, the last surviving priestess, across a land devastated by an endless and cursed rain turning everyone into the undead. Challenging and ghastly bosses reward Lily with glimpses of past events and new spirits to summon as part of an elite ethereal bodyguard. Mix and match the souls of the fallen to create the perfect combination of short range melee strikes, long range attacks, a ghostly dog to harry your enemies for a few seconds, and more to fit your playstyle. Discover secrets and uncover the source of the cursed rain on the path to one of three endings.

Wishlist ENDER LILIES: Quietus of the Knights on Steam and follow the game on Twitter and Facebook for all the latest updates.
Update 09/15/20 at 9:40 a.m.: A Binary Haze Interactive representative has issued a statement that ENDER LILIES: Quietus of the Knights will be coming to "Steam and unnamed consoles," and that "no specific consoles are confirmed." According to the representative, the PAX Online x EGX Digital 2020 booth "named specific consoles in error and has now been fixed."