D3 Publisher and developer Felistella have announced single-player "magic sword creation action RPG" Maglam Lord for PlayStation 4 and Switch. It will launch this winter in Japan.
Here are the first details, via its teaser website:
About

Endangered demon lord species x marriage partner search = magic sword creation action RPG! A brand new game from a team of wonderful creators!

The protagonist made a name for themselves as the deadliest demon lord. But after waking up from a long sleep, they had somehow been designated an "endangered species"!? In Maglam Lord, aim for a complete recovery of yourself, and craft magic swords and fight alongside companions. To avoid extinction of your kind, you can also even look for a marriage partner in heroes and companions…? This is an exhilarating and brand-new action RPG with a world and scenario by Kei Miyakozuki, character design and illustration by Lack, and crafted by a team of wonderful creators.

Staff

Development: Felistella (Summon Night 5)
World Setting and Scenario: Kei Miyakozuki (Summon Night series)
Character Design and Illustration: Lack (Fate/Grand Order's Okada Izou, etc.)
Main Theme: Chiaki Fujita (Sing Like Talking) ("Hikari no Miyako" from Summon Night 2, "Spiral" from Spiral: Machi Koujou no Kiseki)
Sound: Puresound (Summon Night series, Metal Max series)
Follow the game on Twitter @MaglamLord.
Update 5:20 a.m.: Famitsu has shared a few additional details and first screenshots.
In Maglam Lord, you will go on an adventure to forge "magic swords." The protagonist is a once-powerful demon lord who has since lost his power. (You can choose your gender at the start of the game.) You will adventure with "partners," and "marriage partner search" elements are involved in the gameplay.
On the system side, you can enjoy speedy battles with simple controls and elements of hack-and-slash as you take down tough magical beasts to collect materials and forge new magic swords.
The protagonist is Killrizark, the demon lord of swords. This version of Killrizark is voiced by Ryuichi Kijima: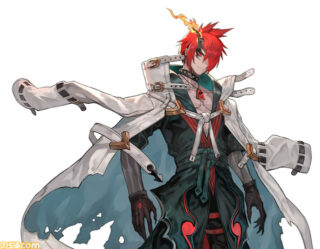 And this Killrizark is voiced by Akari Kitou: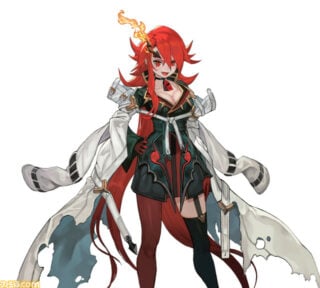 Killrizark is a survivor of the "demon lord species" on the brink of extinction. "Get in my way, and both the gods and the demon lords will be ruthlessly hacked to bits." At the end of this wild behavior, they were subjugated by both sides as an "enemy of the world," and went into a deep sleep to recover. They have no intention of changing their ways upon awakening.
Satius (voiced by Atsumi Tanezaki) is the demon lord's faithful and hard-working servant in preparation for their revival. Although not gifted in the martial arts, Satius is skilled in black magic and knowledge, and willfully supports, admonishes, and watches over the demon lord. Satius tends to feel inadequate and often sighs. Their gender is unknown.