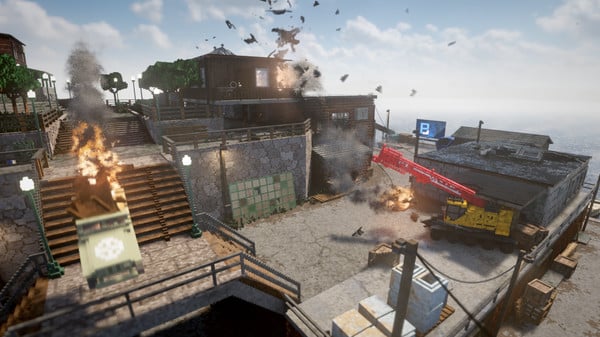 Tuxedo Labs debuted a new trailer for Teardown, a game in which players must "prepare the perfect heist in a simulated and fully destructible voxel world," during the Gamescom 2020: Opening Night Live stream.
Here is an overview of the game, via its Steam page:
About

Plan the perfect heist using creative problem solving, brute force, and everything around you. Teardown features a fully destructible and truly interactive environment where player freedom and emergent gameplay are the driving mechanics.

Tear down walls with explosives or vehicles to create shortcuts no one thought was possible. Stack objects, build structures, or use floating objects to your advantage. Take your time to create the most efficient path through the level and get ready to run.

The moment you pick up your first target, an alarm goes off, and the heat is on. Run, jump, drive, slingshot, do whatever you need to collect all of the targets, and escape before security arrives.

Game Modes

Campaign – With your company pressured by increasing debt, you start accepting work from some more or less shady individuals. Soon you are knee-deep in a murky soup of revenge, betrayal, and insurance fraud. Beginning with some more or less legitimate assignments, you soon find yourself stealing cars, demolishing buildings, blowing up safes, and more. Upgrade your expanding arsenal of tools by searching for hidden valuables scattered around the environments.
Challenges – Collections of varied missions strewn among several exciting environments, each progressively getting harder and harder. Steal stuff, break stuff, blow stuff up and get shot at by an aggressive security chopper. Use your wits, and tools, to figure out the best way to accomplish your goals. Challenges are played with a fixed set of tools to easier compare your results with a friend.
Sandbox – Play around in the various environments with an abundance of tools and vehicles. No pressure, just pleasure.

Key Features

Fully destructible voxel environments.
Realistic physical simulation of objects, debris, vehicles, water, fire, and smoke.
Ten different tools ranging from sledgehammer, blow torch and fire extinguisher to guns and explosives.
A campaign with an escalating storyline and a gallery of interesting characters.
Challenges to test your skills.
Sandbox mode for you to roam around in the various environments.
Teardown is due out in Early Access for PC via Steam in 2020.
Watch the trailer below. Visit the official website here.