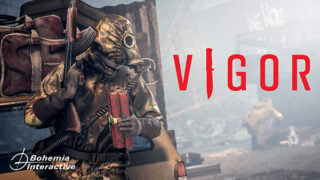 Bohemia Interactive will release free-to-play shoot 'n' loot game Vigor for PlayStation 4 on November 25 and for PlayStation 5 this holiday, the developer announced.
Additionally, the Switch version of Vigor, which released via the $19.99 "Founder's Pack" on July 8, will go free-to-play on September 23.
Vigor first launched for Xbox One via the Microsoft Store in August 2019.
Here is an overview of the game, via Bohemia Interactive:
About

Vigor is a free-to-play shoot 'n' loot game where you build the Shelter in post-war Norway.

The nuclear war is over. Europe is devastated, Norway has become the last stand.

You start as a nameless Outlander, but who will you become? No time for uncertainty.

Shoot your way out or don't fight at all. Loot, gather resources, take risks. Build your Shelter and vital equipment.

Humanity has fallen… You shall rise.

Key Features

Shoot your way out of encounters for eight to 12 players.
Loot precious resources and valuable items.
Build your shelter and vital equipment.
Become the courageous Outlander in post-war Norway.
Watch the latest trailer below.