Skullgirls Mobile and 2nd Encore DLC character Annie announced
Due out for Mobile in the coming months, 2nd Encore in early 2021.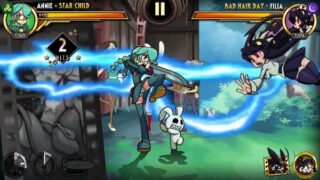 Annie will join Skullgirls Mobile as a playable character via its version 4.40 update due out "within the next couple of months," followed by Skullgirls 2nd Encore in early 2021, developers Hidden Variable and Lab Zero Games announced.
Skullgirls Mobile developer Hidden Variable collaborated closely with Skullgirls creator Lab Zero Games on the creation of Annie. According to Hidden Variable, "While we went into this process knowing that her Mobile release was top priority, we also went out of our way to ensure she was ready to take the stage on 2nd Encore when the time comes."
Hidden Variable said that while it "would LOVE to have Annie simply be the first of many new Skullgirls characters," whether or not additional new characters are coming depends on how well Annie's launch on Mobile and 2nd Encore performs.
Skullgirls 2nd Encore is available now for PlayStation 4, Switch, PS Vita, and PC via Steam. Skullgirls Mobile is available for iOS via the App Store and Android via Google Play.
Watch the Skullgirls Mobile trailer for Annie below.