Prodeus launches in Early Access on November 10
Ffirst person shooter of old, re-imagined using modern techniques.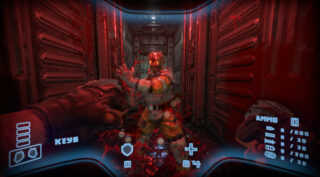 Retro-esque first-person shooter Prodeus will launch in Early Access for PC via Steam on November 10, publisher Humble Games and developer Bounding Box Software announced.
Here is an overview of the game, via its Steam page:
About

Prodeus is the first-person shooter of old, re-imagined using modern rendering techniques. It reaches the quality you expect from a AAA experience while adhering to some of the aesthetic technical limits of older hardware.

Key Features

Art Style

High-quality 3D retro aesthetic.
A focus on over the top visual effects.
Awesome dismemberment system.
Infinite blood. (Go crazy, paint the walls red!)

Gameplay

Fast-paced action.
Hellish destruction.
Dynamic Soundtrack.
Visceral and engaging combat scenarios.
Heavy duty weaponry.
A multitude of secrets to discover.

Replayability

Continuous support.
User generated content.
Easy-to-use Level Editor.
Watch a new trailer below.