The April-announced PlayStation 4, Xbox One, and Switch versions of adventure game Noel The Mortal Fate will launch in 2020, developer Kawano announced.
Here is a look at the new title screen:
Additionally, Kawano announced that the console versions will include an exclusive additional episode titled "Season 3.5," in which Caron and Noel take a seven-day break in LaPlace. Players will be able to enjoy daily life in the city of LaPlace, which has only appeared in the game in fragmented segments thus far.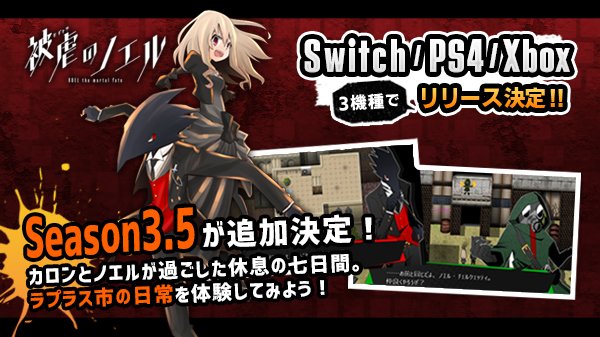 Noel The Mortal Fate is currently available for PC via Steam in both English and Japanese. Seasons #01 to #07 launched in a single package in May 2018, followed by Season #08 in October 2018 and Season #09 in May 2020. Seasons #10 and #11 have yet to be translated or released via Steam.