Hitman III will launch for PlayStation 5, Xbox Series X, PlayStation 4, Xbox One, PC via the Epic Games Store, and Stadia on January 20, 2021, developer IO Interactive announced.
The game will be available in the following two editions:
Standard Edition – Includes the Hitman III base game.
Deluxe Edition – Includes the Hitman III base game and the "Deluxe Pack." The Deluxe Pack includes the "Deluxe Escalations," "Deluxe Suits & Items," digital soundtracks, director commentary mission introduction, and "The World of Hitman digital art book.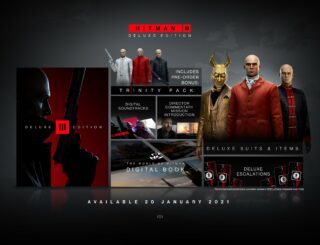 Pre-orders for both editions include the "Trinity Pack," which features a total of nine items across three distinct sets that each represent a different game from the Hitman trilogy (white for Hitman, red for Hitman 2, and black for Hitman III). Each set includes a suit, briefcase, and weapon. The classic Hitman insignia is etched onto each item in gold.
Users who purchase the PlayStation 4 or Xbox One version of Hitman III will be able to upgrade to the PlayStation 5 or Xbox Series X version of the game at no additional cost. On PlayStation 5, however, that is limited to the digital edition. Here are the details:
On PlayStation, when you buy the digital PlayStation 4 version of Hitman III from the PlayStation Store, you can download the PlayStation 5 version at no extra cost when it launches.
On Xbox, Hitman III leverages Smart Delivery allowing access to both the Xbox One title and Xbox Series X title when available.
If you missed it, watch the latest trailer here.