Bridge Constructor: The Walking Dead announced for PS5, Xbox Series X, PS4, Xbox One, Switch, PC, iOS, and Android
Due out in 2020.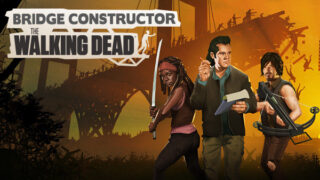 Publisher Headup Games and developer ClockStone announced Bridge Constructor: The Walking Dead for PlayStation 5, Xbox Series X, PlayStation 4, Xbox One, Switch, PC (Steam), iOS, and Android during the Gamescom 2020: Opening Night Live stream. It will launch in 2020.
Here is an overview of the game, via its Steam page:
A brand new take on the genre, developed by the creators of the acclaimed Bridge Constructor: Portal.

Prepare for the ultimate mashup experience!

Join a group of survivors as they fight against hordes of undead walkers and a hostile human community. Build bridges and other constructions through bleak landscapes and ruined structures.

Team up with fan-favorite characters like Daryl, Michonne and Eugene, and create safe passage for iconic vehicles from the series.

Use movable level objects, explosives and baits to your advantage as you lure walkers into lethal traps and guide your survivors to safety.

Enjoy the physics-based frenzy and ragdoll animations as walkers succumb to the forces of gravity.
Watch the announcement trailer below.