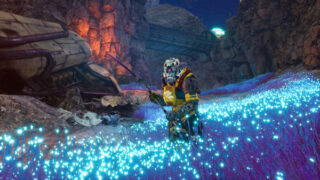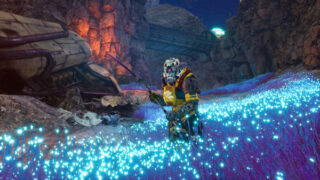 The Outer Worlds' first of two narrative expansions, "Peril on Gorgon," will launch on September 9 for PlayStation 4, Xbox One, and PC for $14.99, publisher Private Division and developer Obsidian Entertainment announced during the Xbox Games Showcase. Xbox Game Pass users will receive a 10 percent discount on the downloadable content. It is also available as part of an expansion pass which includes the unannounced second expansion for a discounted total price of $24.99.
Here is an overview of the downloadable content, via Private Division:
"Peril on Gorgon" adds a substantial amount of content to the game's darkly humorous universe with a brand new noir-tinged adventure that takes players to the Gorgon Asteroid to investigate the mysterious origin of Adrena-Time. While there, you'll find new weapons and armor, perks, flaws, and the same freedom to approach your problems that made the original game so rewarding.

Peril on Gorgon requires the base game and the player will have needed to progress past Monarch to access the expansion's content.
Watch a trailer below. View a set of screenshots at the gallery.
https://www.youtube.com/watch?v=lPVEUFOonuo