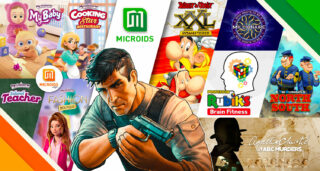 Microids has announced the rest of its lineup for the end of the year 2020, which includes the newly announced Asterix & Obelix XXL Romastered, as well as a Who Wants to be a Millionaire? game, My Universe series, and more.
Get the full lineup below, via Microids.
Asterix & Obelix XXL Romastered

Asterix and Obelix XXL Romastered will offer up to date graphics, an option to switch between the original game and the remastered visuals, two new game modes, new gameplay, new camera and some animations reworked from the ground up! Fans will be delighted to know that the original voices have been kept!

Asterix and Obelix come back to their village after a great day hunting boars only to find their village in flames and their friends missing. By Toutatis! Romans have striked again! Our two heroes and their dog Idefix set off on their journey to find the missing villagers held as prisoners all around the world.

Fight thousands of Romans, explore the world–Gaul, Egypt, Greece, Rome–and face the greatest challenges in this long-awaited remaster!

Who Wants to be a Millionaire?

Release Date: October 29, 2020 (Europe) / November 17, 2020 (North America)
Platforms: Switch, PlayStation 4, Xbox One, PC, Mac (digital-only)
Developer: Appeal Studios

The famous game show Who Wants to be a Millionaire? is making a video game come back! Will you reach the top of the moneytree to claim the highest prize? Take on the challenge and try to answer the 15 questions, wisely using the four valuable lifelines: 50:50, Phone a friend, Ask the audience and the Switch.

The game will also premiere some brand new modes to enjoy by yourself or with friends:

A solo mode especially for kids with questions carefully selected for their age group.
A local multiplayer mode with different settings like "cooperative", where the players have to agree before answering, or a mode ''free for all'' in which a player
giving a wrong answer is eliminated.
An online multiplayer mode where up to 100 players can compete simultaneously. Will you be the last contestant standing?

Agatha Christie: The ABC Murders

Release Date: October 6, 2020
Platform: Switch
Developer: Tower Five

Released in 2016 on PlayStation 4, Xbox One and PC, Agatha Christie: The ABC Murders is coming out this year on Nintendo Switch with some extra content!

You open a worrisome letter: A mysterious murderer called "ABC" is challenging you! Step in the shoes of the renowned detective Hercule Poirot–arguably the most famous character created by the Queen of Crime, Agatha Christie–and question suspects, consider the clues and solve the mysteries to find out the mysterious ABC's identity.

In Agatha Christie: The ABC Murders coming to Nintendo Switch, discover a singular vision of Hercule Poirot's universe. Explore numerous crime scenes and appreciate each unique environment based on British cities.

The Switch version of the game includes the following additions:

New lighting effects
New anti-aliasing filter highlighting the artistic choices
Reworked sound design
Tutorials added
Gameplay reworked for more fluidity
New UI

The Bluecoats: North & South

Release Date: October 27, 2020
Platforms: Switch, PlayStation 4, Xbox One, PC, Mac
Developer: Appeal Studios

Meet again Sgt Cornelius M. Chesterfield and Corporal Blutch in this remaster blending strategy, turn based and real time action! Originally released on Amiga in the late 80's, this remaster will bring back amazing gaming memories to the fans!

Set up the best strategy to conquer all the territories! Take control of new states, secure the forts & railroads to increase your resources and lead the reinforcements coming from Europe. Live or live again the original experience of The Bluecoats: North & South alone or against another player in this updated version offering some improved gameplay!

Professor Rubik's Brain Fitness

Release Date: November 12, 2020 (Europe) / November 17, 2020 (North America)
Platforms: Nintendo Switch, PlayStation 4, Xbox One and PC/Mac
Developer: Magic Pockets

Follow the Professor Rubik brain boosting regimen and sharpen your grey matter with this new brain training program.

Practice daily with quick mini games to improve different parts of your brain such as memory, focus or 3D visualization. Play by yourself or challenge your friends for even more puzzle fun!

An individual coach will guide you through your journey: Let us introduce you to Professor Rubik! Inspired by the Rubik's Cube genius inventor Erno Rubik, Professor Rubik will always be by your side. Wise, reassuring and explaining all the exercises, the Professor will make your experience as fun as possible whilst proving daily practice can lead to measurable improvements.

My Universe: School Teacher

Release Date: October 15, 2020 (Europe) / November 3, 2020 (North America)
Platforms: Switch, PlayStation 4, PC, Mac / Xbox One (US-only)
Developer: Magic Pockets

In this new game in the My Universe collection, become the teacher of a classroom filled with various level children.

Manage the daily tasks of a teacher and work towards helping your school achieve the highest rank in the city through contests! Deal with the uniqueness of your students, each having its own strengths and weaknesses, and adapt your teaching through mini games specifically designed to reflect each course. During the year, new students will join your class, unlocking more complex challenges.

Based on your mini games performance, you will be rewarded with customization options for your character and your school!

My Universe: Fashion Boutique

Release Date: October 27, 2020
Platforms: Switch, PlayStation 4, PC, Mac / Xbox One (US only)
Developer: Black Sheep Studio

In Fashion Boutique, your task is to launch and manage your fashion retail store. Welcome your customers and give them personalized advice, design your own clothing collection and organize your shop to attract more customers.

The game will allow you to create all kind of clothes through mini games offering a selection of clothing types, fabrics, shapes and patterns for thousands of possible combinations!

Once your collection is ready, take pictures of your models wearing your creations to attract more people in your shop! You might end up creating a world renown brand and travel everywhere to take part in the most prestigious fashion shows! Your store is waiting for you!

My Universe: Cooking Star Restaurant

Release Date: November 10, 2020
Platforms: Switch, PlayStation 4, PC, Mac
Developer: Old Skull Games

You are a young ambitious chef eager to open your first restaurant, but things are not going to be that easy. Your customers are craving uniqueness and succulent meals, which will require you to juggle with a lot of factors if you want to succeed. You'll have to be a pro in every domain from welcoming your guests warmly to the choice of the best recipes, delivered through mini games, as well as offering a top class service and upgrades to keep your restaurant highly rated!

As you climb the fame ladder, you will be given the opportunity to meet famous chefs from all over the world, representing the greatest trends in modern cooking styles.

Improve your restaurant by interacting with your customers, the chefs you will meet and your own employees to make it a top destination for foodies!

My Baby

Release Date: November 26, 2020 (Europe)
Platforms: PlayStation 4, PC, Mac
Developer: Smart Tale Games

A "Deluxe Edition" of the game already available on Nintendo Switch!

In My Baby, nurture your baby and help her/his progress through dozens of fun real-life activities! Now available on all platforms, even on Switch thanks to a free update, this "Deluxe Edition" pushes the experience until your little one's third birthday!

Unlock tons of new outfits for your baby now becoming a little girl or a little boy and take part in original activities like the puzzle (indoor) or the slide (outdoor). They grow up so fast!

More complete than ever, filled with cuteness, My Baby awaits its future parents!

Pet Clinic: Cats & Dogs

Release Date: December 2020 (EUROPE) / Q1 2021 (USA)
Platforms: Switch, PlayStation 4, PC, Mac
Developer: It Matters Games

With Pet Clinic: Cats & Dogs you will assume the role of a rookie veterinary nurse tasked to take over the neighborhood pet clinic. Diagnose your sweet fluffy companions either by a visual examination or with an X-Ray and provide them with the appropriate treatment: bandages, creams, ointments, small operations… and the mandatory cuddle!

Pet Clinic will introduce you to dozens of cats and dogs through a compelling scenario filled with missions that get more and more complex as you progress. Become the best at your job and grow your business by offering a personal service with care and love, winning over the competition that decided to stick with a cold industrial approach!