Kemco RPG Selection Vol. 5 coming to PS4 on October 29 in Japan
Includes Asdivine Menace, Wizards of Brandel, Seek Hearts, and Miden Tower.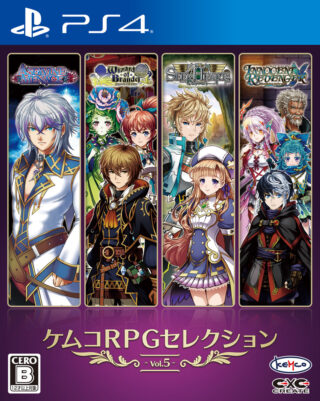 Kemco will release Kemco RPG Selection Vol. 5 for PlayStation 4 on October 29 in Japan for 4,280 yen, the publisher announced.
The first volume was released in July 2018, followed by the second in March 2019 and the third in January 2020. The fourth volume is due out on July 30.
The fifth volume includes the following four titles:
Asdivine Menace

A century after the events of Asdivine Dios, peace has finally settled in. That is, until a visitor from another world suddenly shows up proclaiming the entire universe is about to be destroyed. Hearing this, Izayoi sets off in an attempt to reverse this seemingly pronounced fate with a trio of very idiosyncratic spirits as they criss-cross four worlds in search of an answer. But what is the answer they find…?

Experience immersive turn-based battles with cooperative attacks and new limit break skills! With all quests, collecting and crafting, the battle arena, and even post-game content, Asdivine Menace comes packed with enough elements to satisfy JRPG-hungry gamers. As Izayoi deepens his bonds of trust with his spirit companions, their fates together move in new and meaningful directions!

Read more at PlayStation.com.

Wizards of Brandel

The young wizard Darius loses his house after he fails to make a loan repayment, and ends up living for free in the house of a wanted sorcerer! As he meets a female swordsman who has absolutely no sense of direction, and a plant girl who shrivels up immediately if she doesn't drink enough water, fate decrees to end up traveling together. Where will the quarrels over differing principles lead to?

Unleash continuous attacks with Limit Burst in turn-based battles and form partnerships with the Familiar Spirits! The Magic Lab lets you power up your skills and you can also enjoy setting fields, dowsing areas, and visit side-job rooms to get items at the Magical Garden! Furthermore, explore towns and secret dungeons, experience all the achievements you know and love, such as weapon strengthening, item crafting, and the arena!

Read more at PlayStation.com.

Seek Hearts

With questions swirling in his mind about why he was created and by who, Izen sets out on a journey to discover his origins. However, as he and those with him pursue answers to this mystery, they fail to notice a shadow creeping up upon them with the intent to stop them in their tracks…

Upgrade Izen's abilities with arm/leg parts, core and chips, and activate the armament drive and fight with the support of fairies! Add a little spice to life with titles and enjoy the free arrangement of battle speed and encounter rates! Get easy items from fairies that hide in stockings! Loads of extra content including a battle arena and more still awaits!

Read more at PlayStation.com.

Miden Tower

Miden Tower is a fantasy RPG with a compelling and dramatic story. After Miden Tower is invaded by the Alroval Empire, the mages who call it home find themselves cornered on its upper floors. This sets in motion a series of tragic events that lead to a counteroffensive being launched to take back the tower and to get revenge for the wrongs committed against them.

The heroine is an actual wall that provides support to the main characters by merging with walls or acting as a wind breaker if needed. Turn-based battles can be engaged with 3×3 grid battles by using skills with different effects or by summoning golems to take down your foes. Alchemize items, learn passive skills and enjoy the tons of quests and extra enjoyment that await in this magical adventure!

Read more at PlayStation.com.
Visit the official website here.