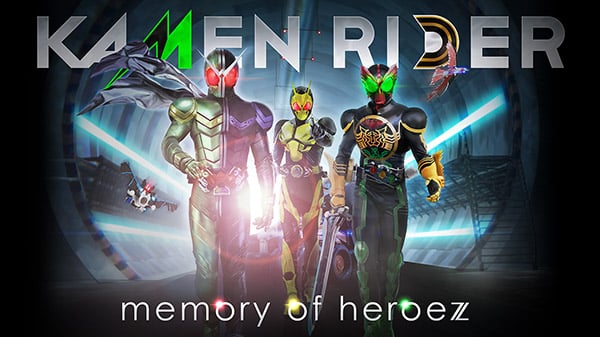 Bandai Namco has announced "hero chain action" game Kamen Rider: Memory of Heroez for PlayStation 4 and Switch. It will launch on October 29 in Japan and Southeast Asia with English subtitles. It will cost 7,600 yen in Japan.
Early purchases include three types of special motions for Kamen Rider W, OOO, and Zero-One, as well as four pieces of equipment that increases experience and stamina ("Memory of Heroez," "No Life is Easily Saved," "Count Up Your Sins," and "The Only One Who Can Stop You").
Kamen Rider: Memory of Heroez follows an original story and promises to be a "much more evolved Kamen Rider experience than previous console titles." In it, the player must battle while cleverly operating form changes and utilizing gadgets that have appeared in the Kamen Rider series.
Here are some gameplay details, via the official website:
Characters

Kamen Rider W

Cyclone Joker (Shotaro voiced by Yoshimasa Hosoya, Philip voiced by Kouki Uchiyama)

Kamen Rider OOO

Tatoba Combo (voiced by Tatsuhisa Suzuki)

Kamen Rider Zero-One

Rising Hopper (voiced by Fumiya Takahashi)

Basic Actions – Fight using attacks with different power and Rider Power (RP) consumption. Fight and chain together combos to get a high rank.
Chain Actions – A chain system in which you simultaneously select a form change and followup attack. Discover your own chain route and fight while connecting chains one after the other.
Rider Power – Rider Power is required for powerful attacks and evasion. Ascertaining the state of battle and mastering Rider Power is essential.

Gadget Actions

Memoria Gadget – The Memoria Gadget that appears in Kamen Rider W supports the Riders. It plays a large part in the game, such as using its Denden Sensor to locate hidden items.
A Premium Sound Edition will also be available (priced at 11,800 yen in Japan), which includes 60 additional songs (opening songs, background music, and insert music) that can be set as the in-game background music, including:
Songs

"W-B-X ~W-Boiled Extreme~"
"Cyclone Effect"
"Free Your Heat"
"Finger on the Trigger"
"Extreme Dream"
"Anything Goes!"
"Regret Nothing ~Tighten Up~"
"Got to Keep It Real"
"Ride on Right Time"
"Sun Goes Up"
"Time Judged All"
"Shout Out"
"Power to Tearer"
"Real x Eyez"
"Another Daybreak"
And more to be announced!

Background Music

"Imamade no Double ha"
"Dai Tsuiseki"
"Panic World"
"Kyodaika"
"Dai Ransen"
"Hardboiled"
"Yogiri no Tantei"
"OOO the Story"
"Perfect Traveler"
"Henshin OOO"
"Joshi Gakusei Hina"
"Yokubou no Kyodaika"
"Dai Soudou"
"Shutsugen"
"Naniwa no Kokoroiki"
"Double Mecha"
"Shinjitsu"
"Oyassan"
"Kyuukyoku no Memoria"
"Unmei no Joker"
"Core Medal no Himitsu"
"Scanning Charge"
"Ani to Imouto"
"Hametsu he no Countdown"
"Hisou-na Hina"
And more to be announced!
A digital art collection featuring exclusive limited art is also included.
Watch the announcement trailer below. View the first screenshots at the gallery. Visit the official website here.
English
Japanese