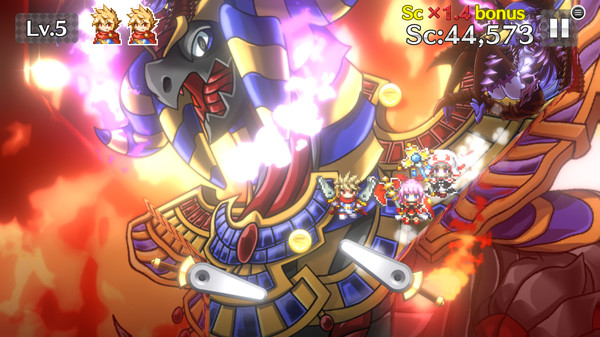 Japanese developers Apollosoft and Power Unit will release pinball RPG Brave Pinball for PC via Steam on August 4 for 1,500 yen, the studio announced. It will support English, Japanese, Simplified Chinese, and Traditional Chinese language options.
Brave Pinball was first released for PC via retailers such as DLsite and Booth back in April.
Here is an overview of the game, via its Steam page:
The dead man's mouth opened…

The sealed "Demon Dragon King Boruaka" resurrected, and the world became pinball.

The hero Fol clutches his flipper blades with each hand and moves to take down the Demon Dragon King with his buddies!

Brave Pinball is a single-player pinball game.

There are no difficult rules. Use the left and right flippers to shoot the hero and defeat the groups of monsters led by the Demon Dragon King Boruaka! That's all there is to it!

There are many enemies to battle in various Japanese RPG-style stages such as grasslands, forts, caves, forests, and more, and in order to head to the next stage, you need to have a good control technique over the hero. Will the hero find the Demon Dragon King Brouaka that lurks in the darkness and restore peace to the world? (The boss may not be alone…)

Of course, Brave Pinball also has a high score challenge, which is very important in pinball! Each time you level up, your score's rate of increase will also increase.

During the game, you will obtain treasure pieces by clearing various conditions such as defeating specific enemies. When all the pieces are collected, a hidden treasure will appear. As for what it will be, you'll have to play and see for yourself!
Watch a trailer below.