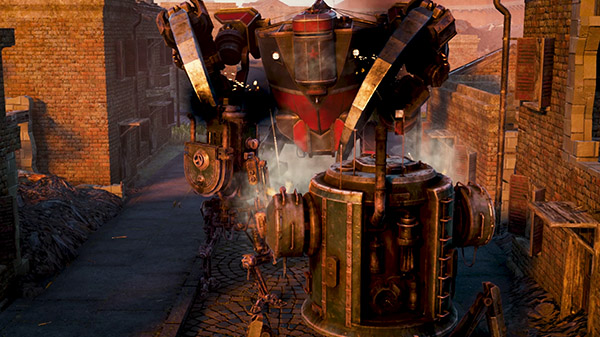 Publisher Deep Silver and developer King Art Games have released a new trailer for real-time strategy game Iron Harvest introducing the "Rusviet" faction.
Here is an overview of factions, the Rusviets, and the game, via Deep Silver:
About Factions

Iron Harvest tells an epic, overarching story following three factions and their protagonists in the alternate-fiction universe of 1920+. Each of the factions offers different tactical opportunities and advantages in battle. This not only allows for an intense story spanning across 20 missions in three campaigns, but also grants players deep tactical multiplayer experiences in which strategy beats clicks-per-second at any time. Additional Skirmish and Challenge Maps allow players to challenge the AI alone or in co-op with a friend.

About the Rusviets

After the Great War and on the brink of a revolution, the Rusviet nation is struggling to keep a constant flow of resources up and running. Resources they desperately need to fuel their huge, expensive war machines. Today's video introduces the Rusviet Mechs and gives a first idea on how they are used best on the battlefields of Iron Harvest.

Inspired by post World War I-history, Iron Harvest tells the story of a Rusviet Empire facing internal struggles while trying to maintain a dominant position on the battlefield. Close combat with heavy mechs, or slow but highly devastating artillery are to be balanced when players lead the Rusviet soldiers to the front.

About Iron Harvest

Iron Harvest is a real-time strategy game (RTS) set in the alternate reality of 1920+. At the dawn of the 20th century, shortly after the end of the Great War, the world is full of secrets and mysteries, of opportunities and challenges. Tradition clashes with scientific and technological progress, while Europe is still recovering from the brutal battles of the World War. To create the perfect RTS-experience the team has been working in close cooperation with global RTS-fans ever since the highly successful Kickstarter campaign.
Iron Harvest is due out for PC via Steam on September 1, and for PlayStation 4 and Xbox One at a later date.
Watch the trailer below.